Let's talk about screens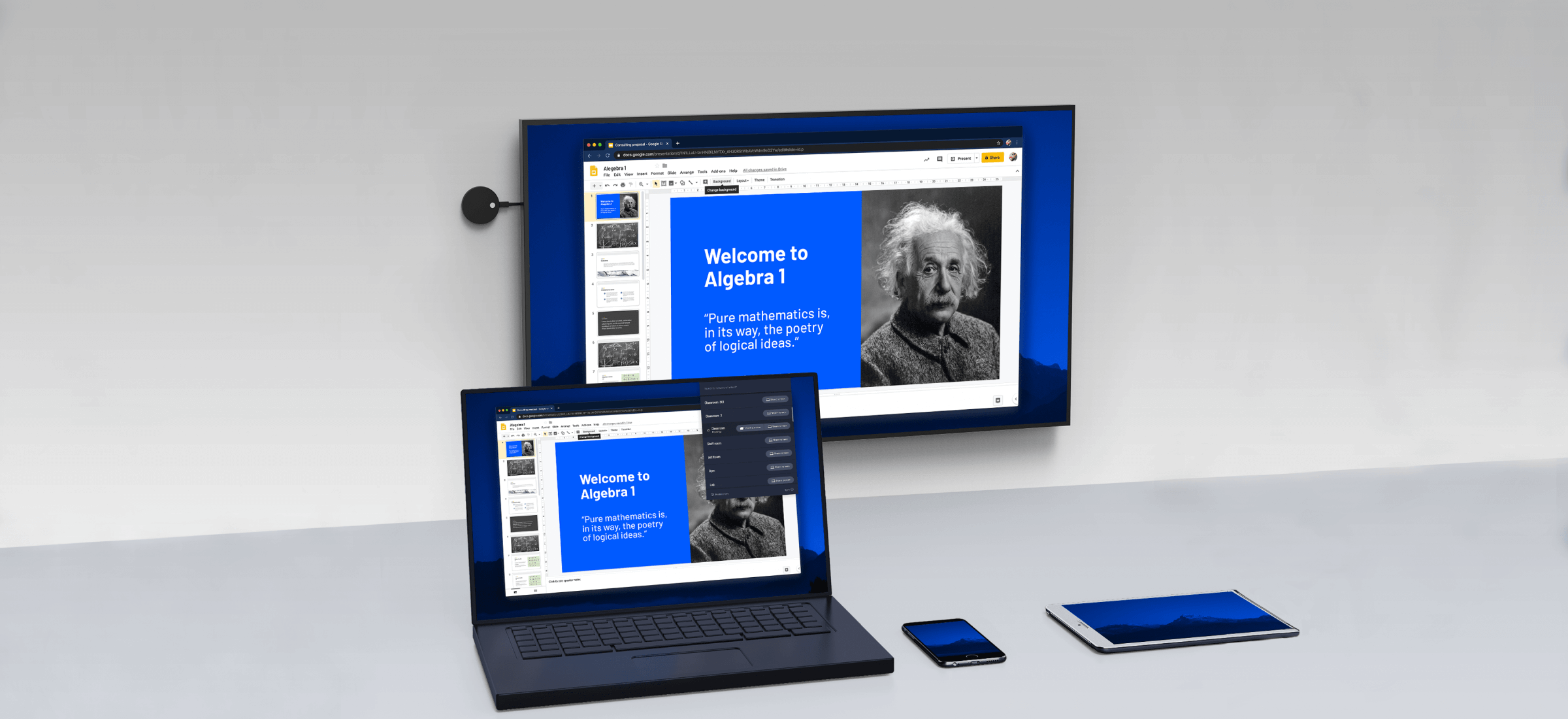 We spend a lot of time gazing into the screens of our personal devices: laptops, tablets, smartphones. We know our personal devices inside out. But our confidence fades when we face using shared screens at work or at school.
Whatever's been preventing you from using shared screens, it's important to take back control and start benefiting from screen sharing. It'll help you be a more efficient, more confident presenter. Which will increase engagement from colleagues, students, and classmates.
Here's some key info on wireless HDMI, which is at the heart of how many screen sharing solutions work.
Wireless HDMI
High-definition multimedia interface (HDMI) allows you to send HD imagery and audio from a personal device (e.g. laptop) to a TV or projector. Most of us have used an HDMI cable in order to share presentation slides during a class or meeting.
Although a direct (cabled) connection can help to mirror your screen in high quality, it's simply not a scalable solution. As workspaces and educational environments develop, the cables are no longer cutting it.
Schools want to untether teachers from the front of classrooms, and companies want a single solution that supports all kinds of personal devices without needing different adapters, dongles and more to support a cable setup. As a result, wireless is the way to go when it comes to screen sharing.
Wireless HDMI simplifies things by allowing users and administrators to share and update screen content wirelessly. Let's say you want to enable screen sharing and collaboration in a conference room. Without wireless HDMI, every participant would need a cable that works with their computer model. This can be a costly proposition given the sheer number of cables needed to accommodate all computer models. Cables and adapters can also break or go missing, costing time and money to replace. And this is only when considering how to support presenters' computers. For anyone who'd want to simply present from a smartphone or tablet, the cable route simply doesn't work.
While some TVs and projectors offer built-in wireless screen sharing options (e.g. Miracast), most organizations opt for a physical device that connects to a TV or projector via HDMI. The device lets the TV receive content from personal devices used by students or meeting attendees.