Wireless Conference – Steps for Bijie Wireless Conference Screen Projection Solution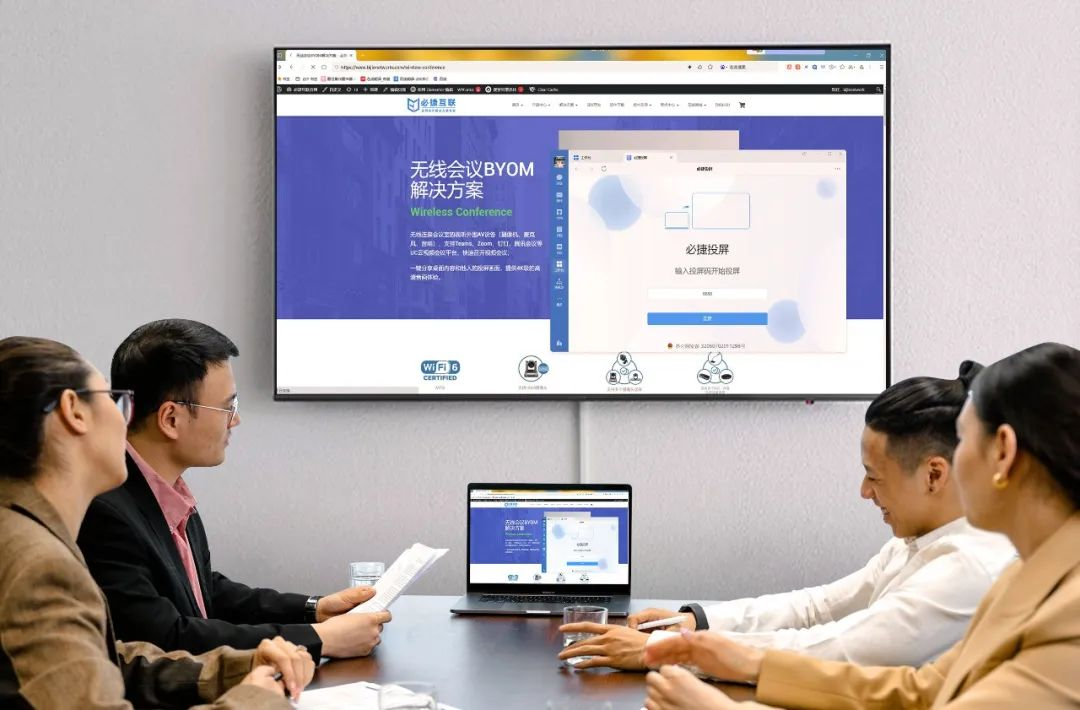 The projection screen in the conference room used to use a projector, but the wiring in the conference room was complex, and the storage box was filled with various signal connectors, making it difficult to manage the conference room. This meeting mode not only affects meeting efficiency, but also the conference room is not clean enough, affecting the company's image. For such a situation, effective improvement can be achieved through the Bijie wireless conference room screen projection solution.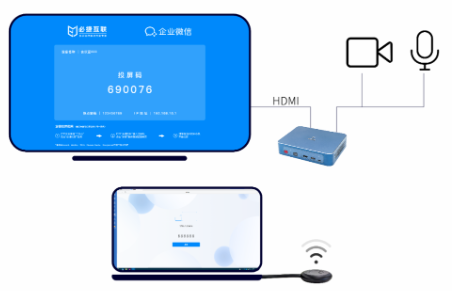 So, what are the steps for wireless screen projection in a conference room?
The wireless screen projection equipment in the conference room is indispensable in the wireless screen projection scheme.
① Display device ② Wireless conference camera ③ Omnidirectional microphone ④ Wireless screen projector ⑤ Wireless streaming gateway ⑥ Other participating terminals
Steps for wireless screen projection in conference rooms
1. Connect the Bijie wireless screen projector to the display device;
2. Connect the wireless camera and microphone to the company network
3. Select screen projection method as needed
a. App screen projection: participate in conference room screen projection by downloading software clients from the network
b. Wireless screen projector screen projection: Insert the wireless screen projector transmitter button (USB, HDMI, Type-C) into the screen projection device terminal, and press the button to achieve multi screen collaboration between mobile phones, tablets, computers, and conference room display devices.
c. Protocol screen projection: Android and iOS operating systems come with built-in screen projection, Miracast, Airplay.
From then on, we bid farewell to the awkward conference room where equipment debugging lasted for half an hour, lights were turned off, curtains were pulled, and black meetings were held. The whiteboard was full and could not be wiped clean, the lines were messy and uncluttered, and the operation was complex and unusable. On the contrary, the commercial positioning of corporate conference room screen projection is not an entertainment application, and the stability of the product is particularly important. The wireless screen projection solution for this conference room does not require VGA or HDMI cable signal transmission, and does not require IT personnel to serve the entire conference. It can be deployed at any time.
The steps for wireless screen projection in the Bijie conference room are simple, but the functions are powerful. Users do not need to install, set, configure, or connect to the internet. Simply choose their own convenient screen projection method to achieve wireless screen projection.