AR glasses – Thunderbird AR glasses paired with Bijie AR00 projector for easy screen projectio

CL's Thunderbird Innovation has launched a new generation of binocular full color MicroLED optical waveguide AR glasses, RayNeo X2, on CES 2023. The AR glasses are equipped with the Qualcomm Snapdragon XR2 platform, equipped with a 590mAh battery, 6GB of memory, and 128GB of storage space. They feature a binocular full color MicroLED optical waveguide display screen, boasting a brightness of up to 1000 nits, a contrast ratio of up to 100000:1, and support 16.77 million colors.
The Thunderbird X2 is equipped with a 16MP camera that supports functions such as static photography, video, and time delay photography. It is also equipped with a 0.7cc ultra small full color MicroLED light engine component, a diffraction waveguide that enhances the brightness by three times, and a micron level binocular fusion natural display effect.
Can the Thunderbird AR glasses RayNeo X2 be connected to an Apple phone, and how can it be connected? Paired with a Bijie AR00, you can easily achieve it. AR00 portable wireless screen projector is a specialized wireless screen projector for AR glasses, with a compact body and a size of only 112.5*60* 10mm, making it very convenient to carry. The interfaces of the AR00 are concentrated on the projector, consisting of two Type-C interfaces and one USB interface. It supports Type-C and HDMI dual outputs, and the power button and volume adjustment button are located on the side of the body.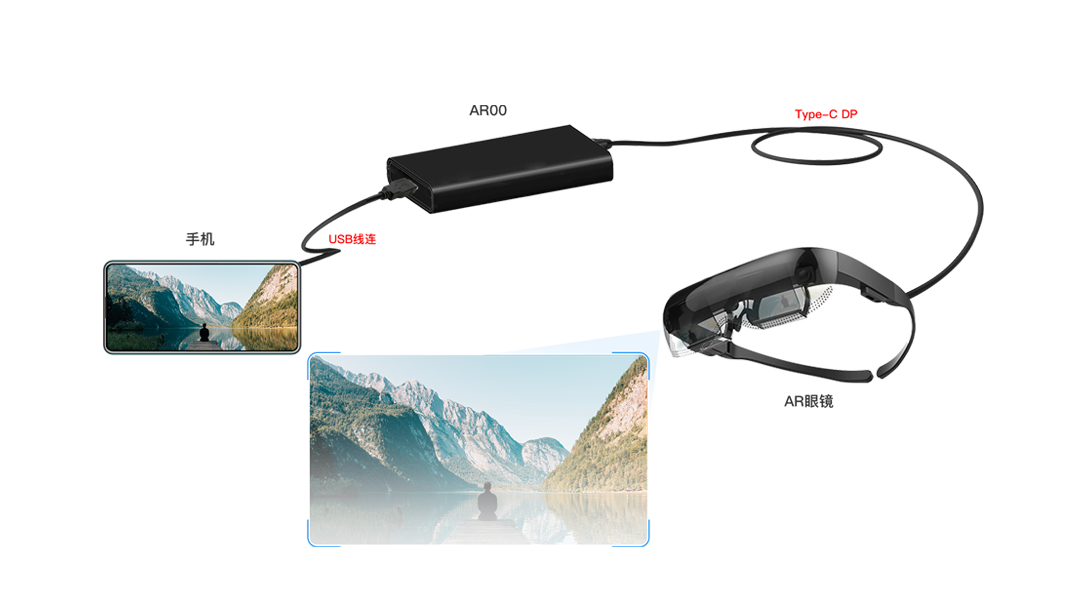 iOSdevice AirPlay screen projection
The wireless same screen function of the iOS system intelligent terminal adopts the Airplay method for screen projection.
The AR00 portable wireless screen projector supports iPhone and iPad wireless screen sharing for iOS7.0 and above systems. When screen casting, it is necessary to ensure that the iOS device and screen casting box must be connected to the same network:
1. Open the iOS device control center 'AirPlay';
2. Select the screen projection device and start mirroring the screen projection.