As an important part of campus informatization construction and the cornerstone of innovative development of intelligent education, smart classroom undertakes the task of making intelligent teaching simple, efficient and intelligent. It is of great significance to promote the development of educational informatization to intelligence and innovation.

Suzhou Bijie Network Co., Ltd., as a leading multi screen assistance solution service provider, has always focused on technological innovation, product innovation and application innovation in the field of intelligent teaching application. It has launched a product solution of group discussion intelligent classroom, which provides multiple learning islands, and each learning island can carry out controlled and free discussion. The classroom should provide full scene HD recording and broadcasting, Multi group multi screen interaction, multi device access (mobile phone, tablet, notebook, etc.), sub group recording and other support systems provide support for group discussion and sharing on one or more topics.
bj80, as the core product of Bijie group discussion smart classroom solution, undertakes the central control and management interaction function of the whole system. Today, we conduct in-depth evaluation on this latest product.
1. Appearance is the first productivity
. In this face-to-face era, whether for people or goods, a high appearance can definitely take a lot of "cheap". For a high-end multi screen collaborative intelligent terminal, high appearance means a good sense of design, good workmanship and more solid materials. Next, we will make an overall analysis on the appearance, materials and accessories of this bj80 multi screen intelligent terminal.
,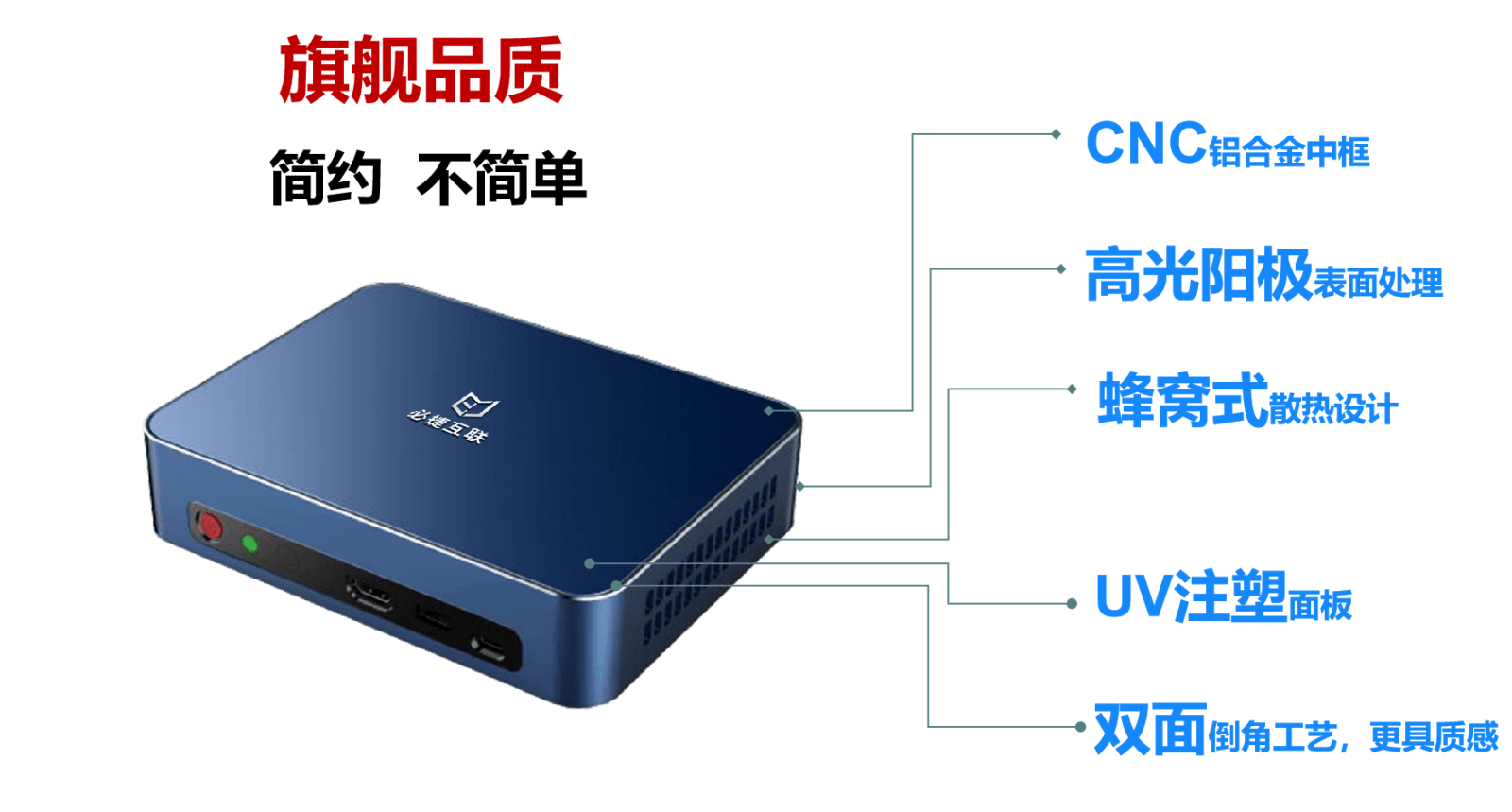 ,
,
as a flagship product, bj80 body adopts aluminum alloy CNC process, 180 * 138 * 43mm cuboid is formed as a whole, dark blue glass and frosted material, coupled with round corner design, the simple business style appearance makes people like it very much, and can be easily matched with various types of meeting rooms.
bj80 is equipped with a flagship processing chip rk3399 of Ruixin micro. The CPU adopts dual core cortex-a72 large core + quad core cortex-a53 small core structure, supports 4K @ 60fps10bit video playback and output capacity, and provides faster computing speed and better visual effect for the terminal.
bj80 provides two HDMI output interfaces and dual display support; 802.11ax (wifi6) wireless module is built in to provide higher wireless transmission efficiency and access capability.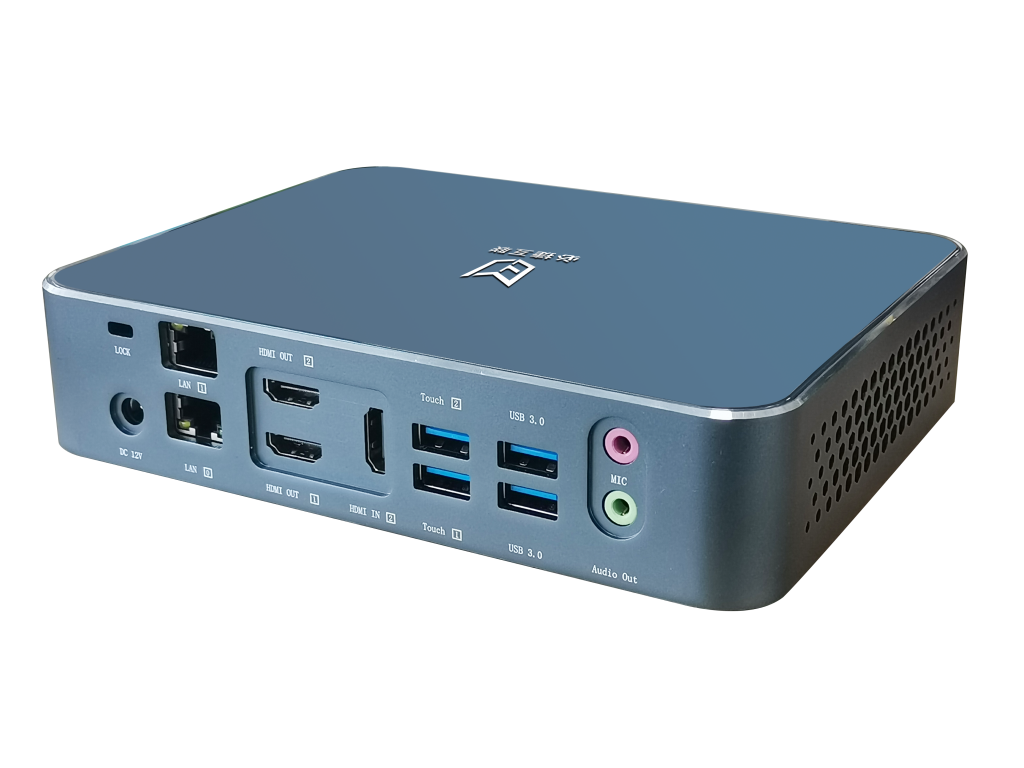 bj80 supports dual Ethernet interfaces and provides application solutions for internal and external network isolation of enterprises to ensure data security.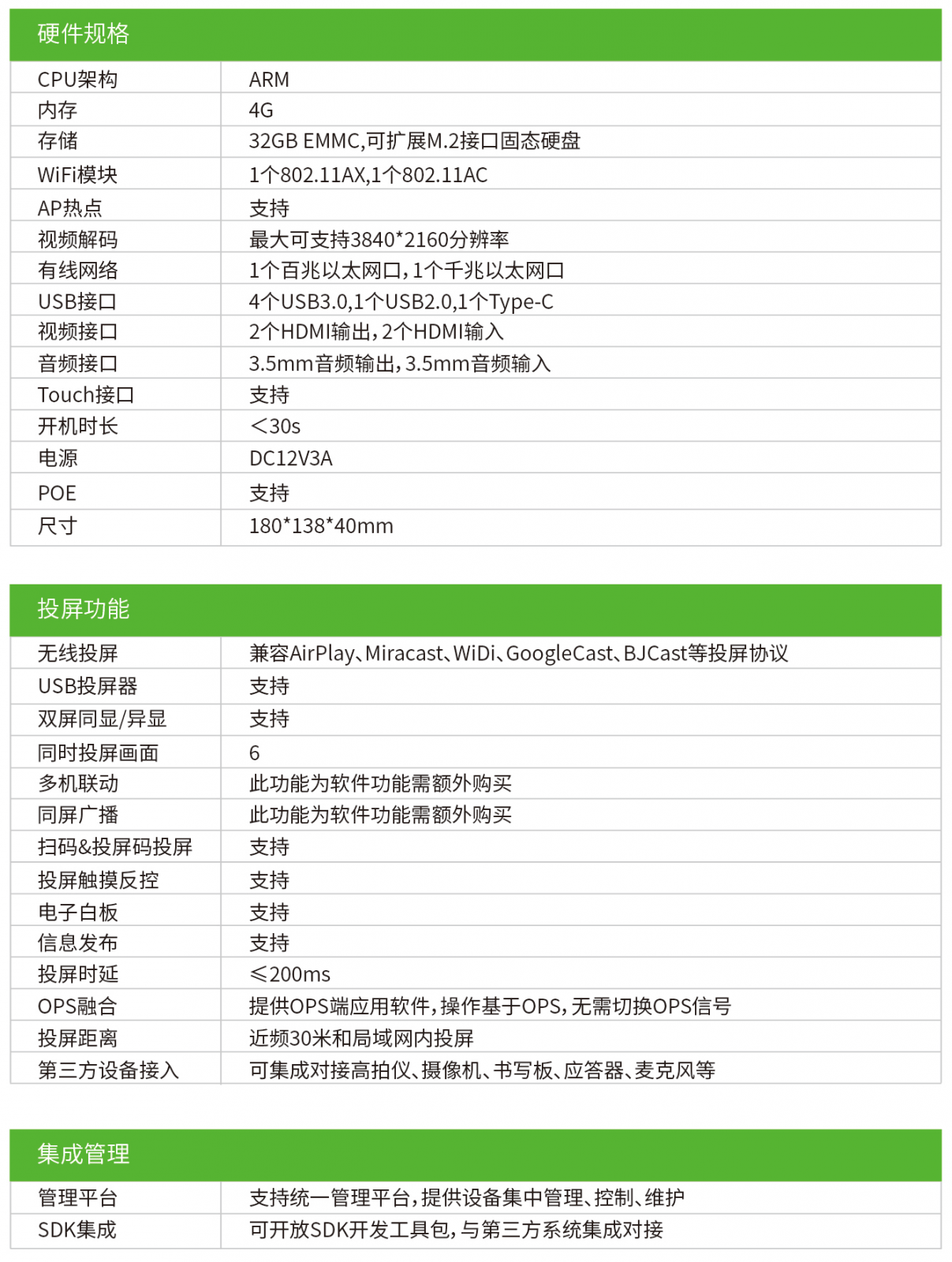 II. Function evaluation
1. Dual screen display
bj80 supports two display modes: dual screen simultaneous display and dual screen differential display.
,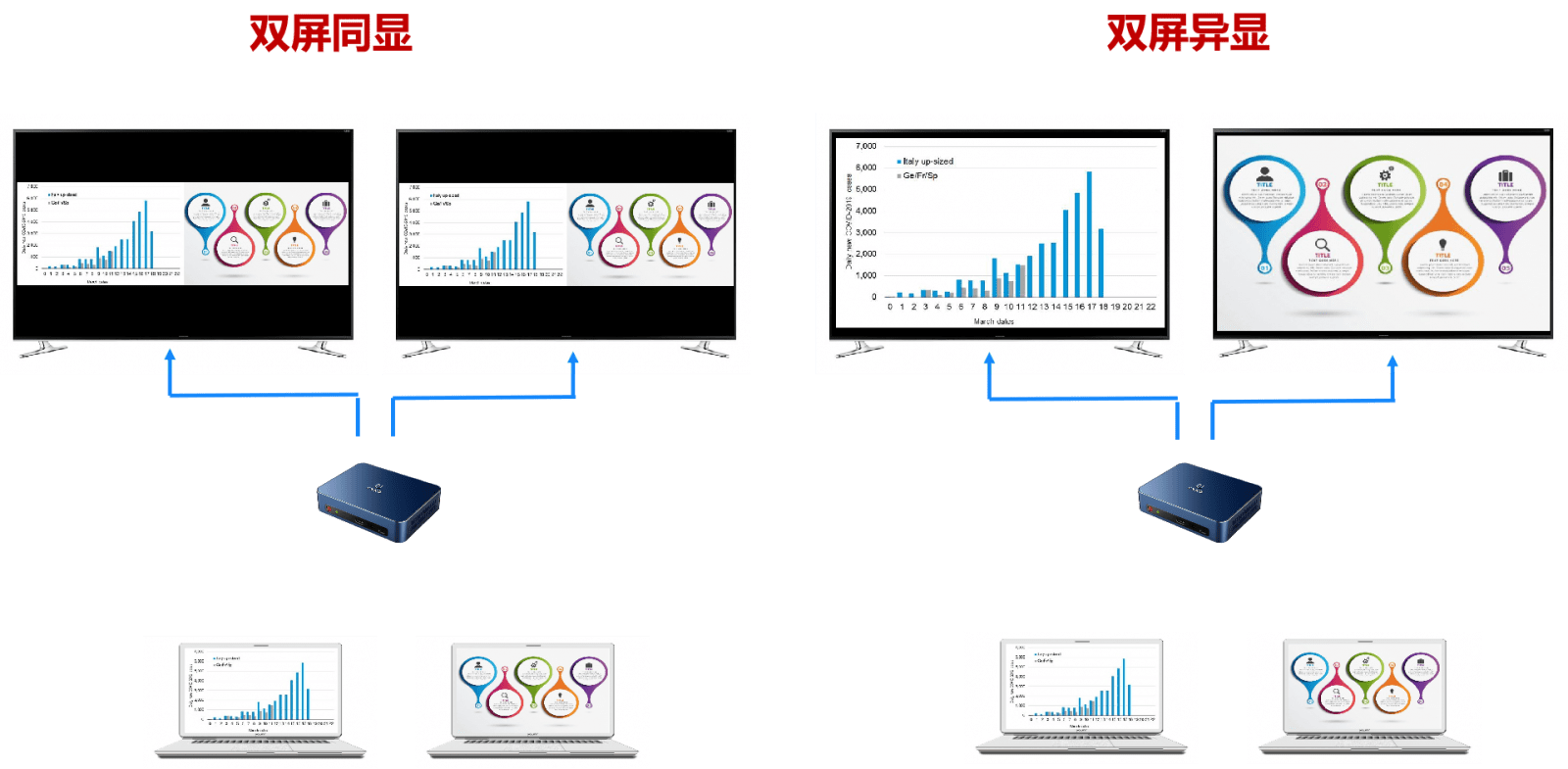 and
in the same display mode, the multi-channel screen projection device screen will be randomly assigned to the main / auxiliary screen display. You can drag one screen projection screen to another large screen display at will. When the touch icon enlarges any target screen, the two screens will display the projection screen synchronously in full screen. After use, the touch icon can reduce or remove the projection screen. In the abnormal display mode, the two large screens will display different projection images. After clicking the switch button, the projection images displayed on the two large screens can be switched with each other; In addition, when the dual screen display function is used, the dual screen supports one screen projection content display and one screen electronic whiteboard writing. It is worth noting that in the abnormal display mode, the display images of the main and auxiliary screens are consistent when only one way of screen projection is available.
2. Wireless screen transmission
bj80 multi screen cooperative intelligent terminal is an enterprise level wireless screen projection display device, which provides the best byod wireless screen transmission in the industry, and is compatible with airplay, miracast, widi, DLNA, googlecast and other wireless screen projection standard protocols (mobile computer can be wireless screen projection without installing any software), At the same time, it also provides bjcast wireless screen transmission protocol (Bijie private screen transmission protocol, mobile phone / computer needs to install client program), which can support up to 6 channels of same screen display.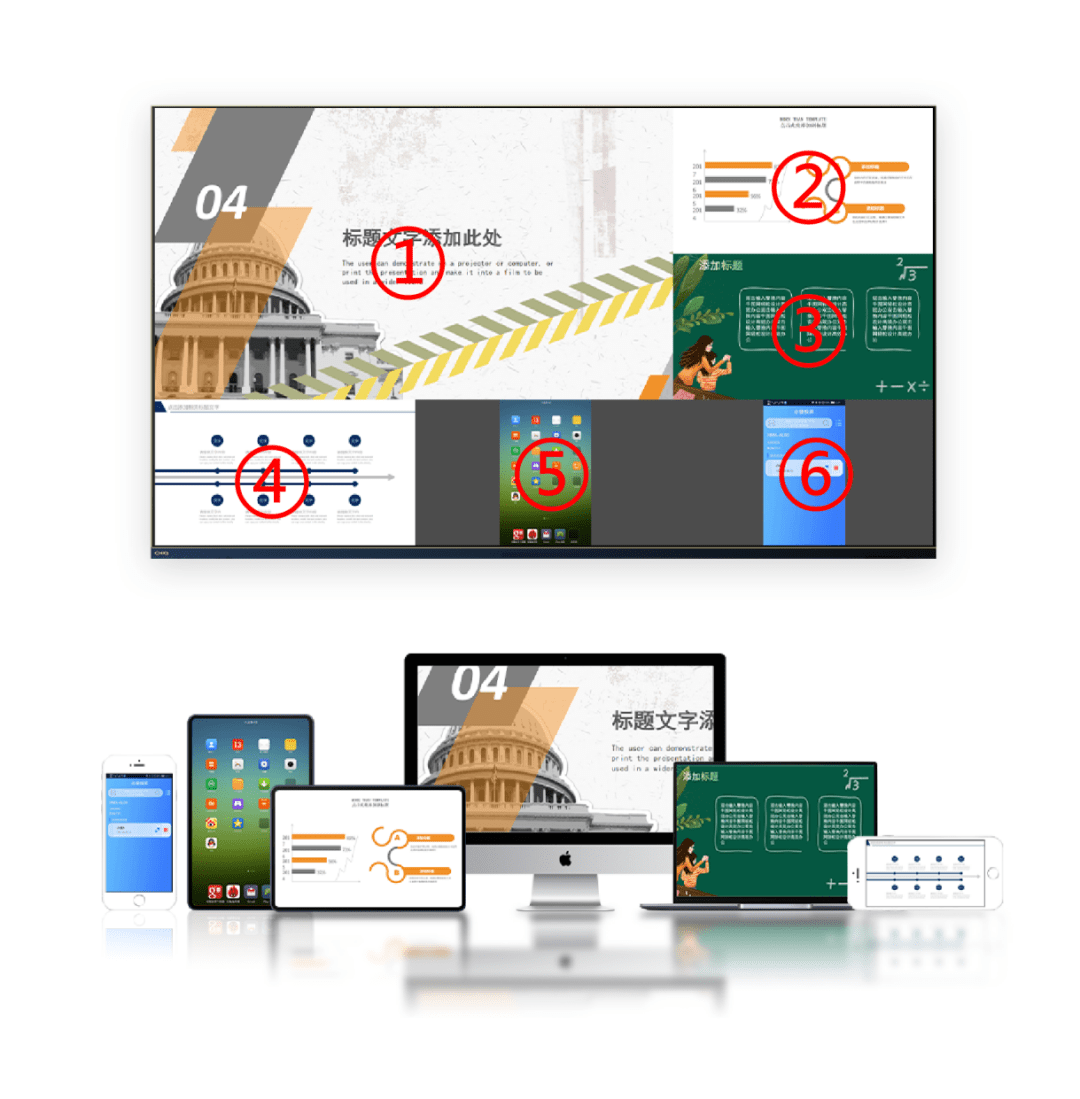 bj80 supports AP hotspot function and can provide local hotspot coverage. The addition of wifi6 module makes the wireless screen projection more efficient and convenient.
3. Screen projection and anti control
bj80 multi screen cooperative intelligent terminal can provide screen projection and anti control function of Android and windows devices. IOS and Mac OS devices do not support screen anti control temporarily. Android device screen cast anti control
Android device screen cast anti control is only effective in miracast screen cast mode, and Android terminal needs to support UIBC function (currently supported by Huawei, Samsung and some high-end Xiaomi mobile phones).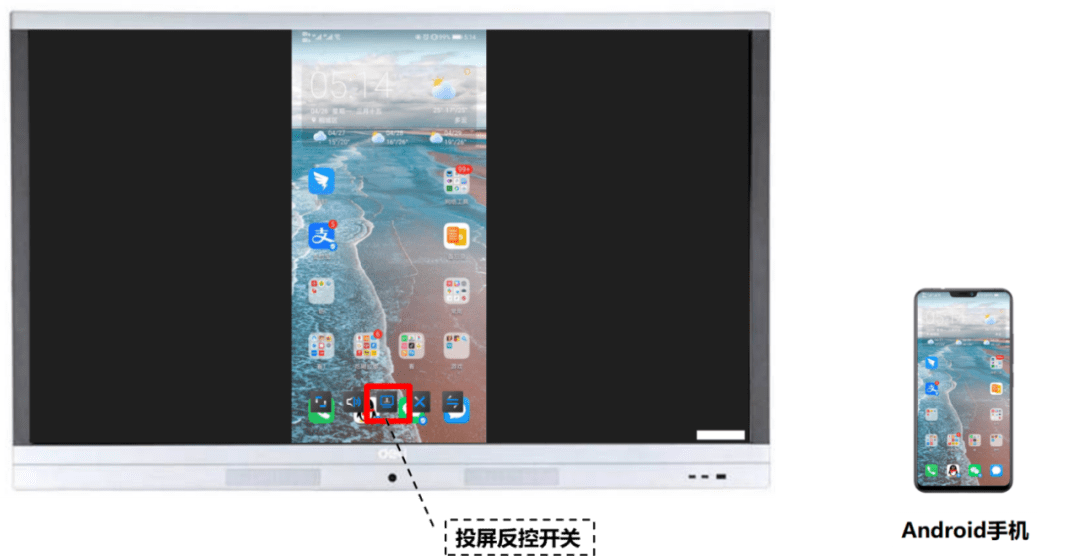 windows device screen cast anti control
windows device screen cast anti control can be supported in widi direct cast and PC client screen cast modes. After the screen cast content is on the screen, click the function button in the large screen display area to open the anti control function.
widi anti control of win10 computer needs to turn on "allow mouse, keyboard, touch and pen input from this device".
Windows computer client screen anti control.
screen inversion is a very practical function used in teaching. Teachers can directly touch the large screen to reverse operate the mobile phone or computer, such as ppt page turning, fast forward and fast backward, etc.
4. Multi machine linkage
multi machine linkage function is mainly used in group discussion classrooms. This function mainly realizes the interaction between the classroom main screen and the group screen through the multi machine linkage function. The multi machine linkage function can broadcast the teacher's main screen to the group screen for the same screen display, or drag the group screen to the classroom main screen for display or distribution, so as to facilitate the teaching teachers to share, transfer and compare and review the courseware.
(1) main equipment broadcast: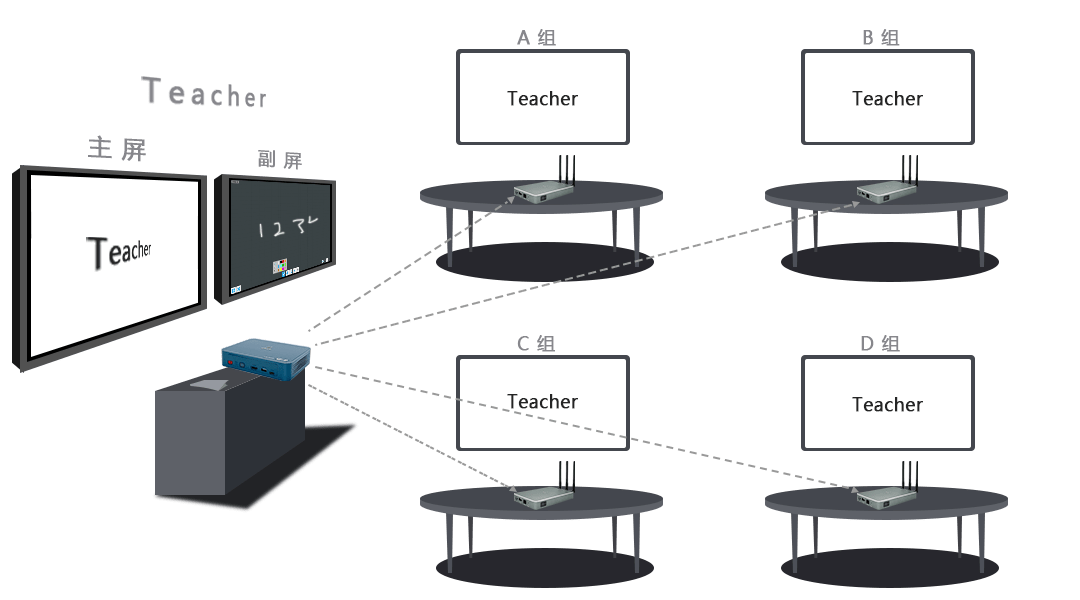 ① click the "broadcast" button to broadcast the screen projection content of the main equipment to all group screens synchronously. During the broadcast, the screen of the group screen and the screen of the main equipment are displayed synchronously.
② click "close broadcast" to close the broadcast function.
(2) slave device display: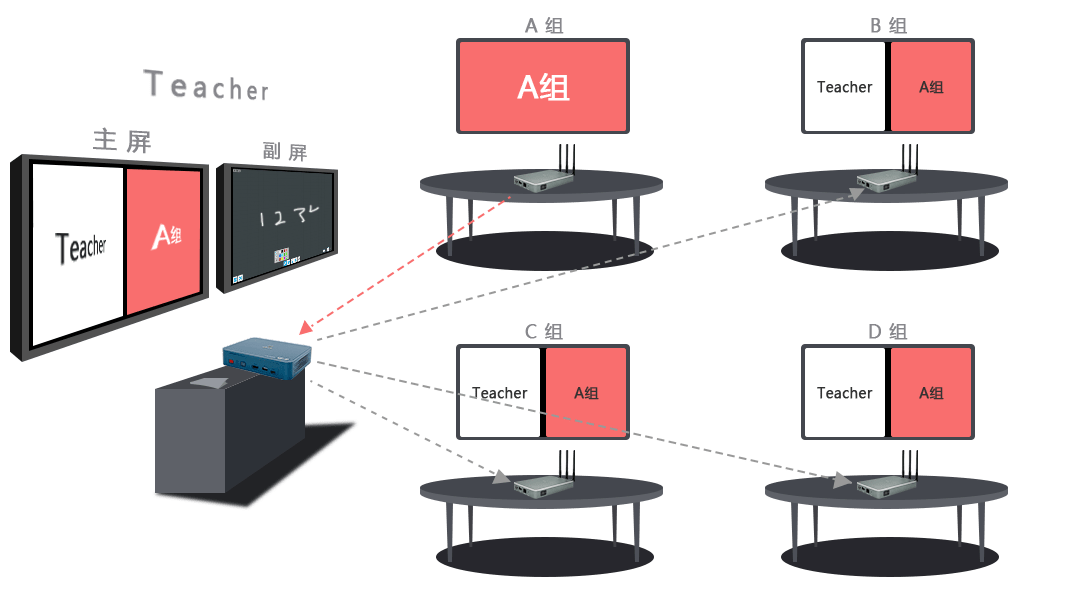 ① click Group screen a in any "group signal source" and drag the screen content of group A to the large screen of "main equipment".
② when the screen of group A is displayed on the large screen of "main equipment", click the "broadcast" button of "main equipment" to broadcast the screen of group A to the large screens of groups B and C.
5. Interactive touch
for different smart classroom display environments, bj80 multi screen cooperative intelligent terminal provides a variety of interactive operation solutions, whether non OPS touch all-in-one machine, OPS touch all-in-one machine, or ordinary TV / projector. Supporting non OPS touch all-in-one machine non OPS touch all-in-one machine refers to a large screen that only provides display and touch functions. Users only need to use HDMI video cable and USB touch cable to connect the Bijie multi screen cooperative intelligent terminal with the touch screen, so as to carry out screen interactive operation and terminal configuration management on the touch screen.
,
,
,
Bijie multi screen cooperation terminal has the sidebar control function. Click the function button in the red area on the large screen to carry out interactive operation and configuration change of the multi screen cooperation terminal.
,
,
,
supporting OPS touch all-in-one machine
OPS all-in-one machine generally adopts windows system as the main system. In the teaching process, the frequency of using Windows teaching software in the classroom is very high. The video output of Bijie multi screen Cooperative Intelligent Terminal is an independent signal source, and the OPS all-in-one machine needs to be switched to HDMI display mode, which brings the problem that teachers need to switch the signal source frequently. To solve this problem, Bijie Internet specially provides the control interactive software and control API interface on the windows side.
and
windows end are installed with interactive management software, which adopts the form of floating window, and provides the functions of one click broadcasting, content display on the same screen and equipment configuration on the screen;
Bijie multi screen cooperative intelligent terminal and OPS touch all-in-one machine only need one data cable to connect.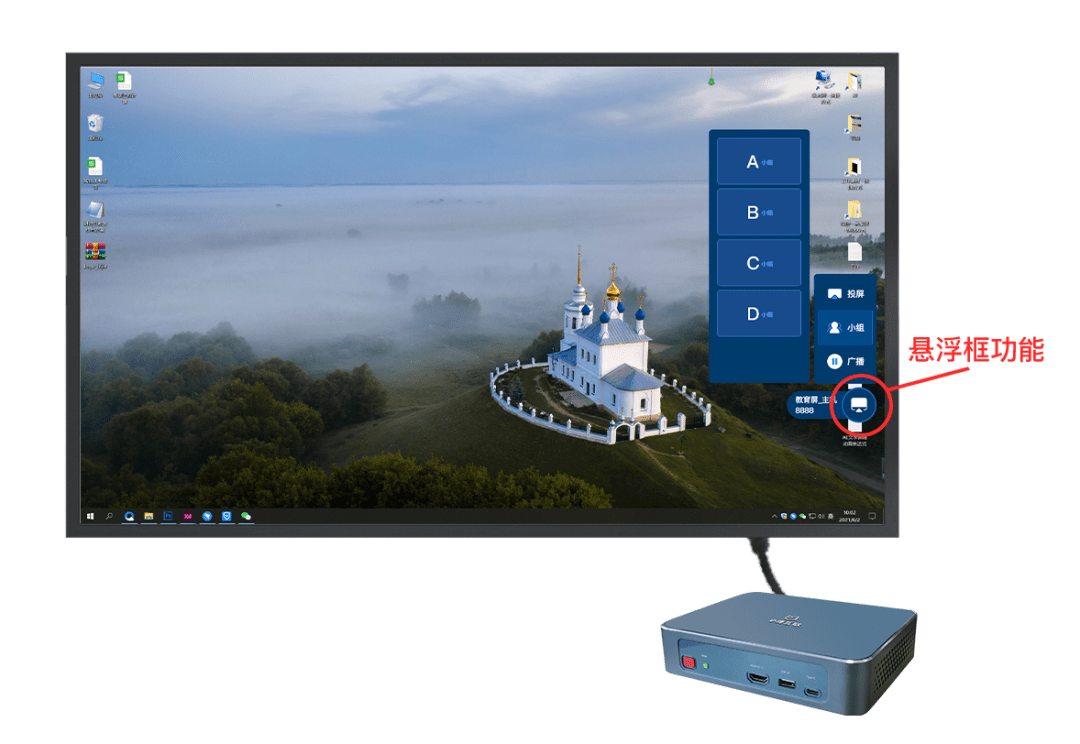 is equipped with independent central control equipment (Android / windows)
for the application environment using independent intelligent central control, Bijie can provide multi screen interactive control app or API interface, and control the signal switching, screen broadcasting and other interactive operation functions of Bijie multi screen cooperative intelligent terminal through the app end.
and
third-party companies can integrate and adapt functions based on Bijie interactive control API interface. At present, they can adapt to Android and windows platforms.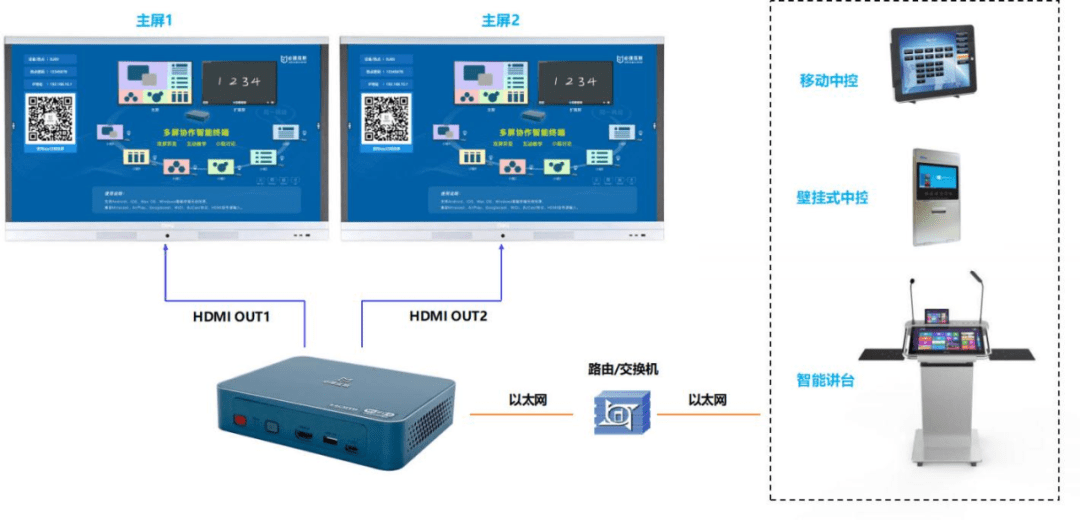 6. Electronic whiteboard and Annotation
Bijie multi screen collaborative intelligent terminal has built-in electronic whiteboard and annotation functions to provide flexible writing and review. Considering the needs of various paper and pen applications such as complex formulas and graphics in the actual teaching process, the electronic whiteboard annotation function can ensure that teachers and students can effectively cooperate and freely express ideas and inspiration in the process of cooperative learning, collaborative exploration and interactive teaching. Support multiple groups to discuss at the same time, and multiple parallel discussion groups can share presentations and circle comments; Support collaborative punctuation. Teachers can annotate the presentation content by punctuation, which can be distinguished by different colored brushes. The intelligent writing function and multi screen interaction in the scheme complement each other. The display contents of teachers, students and groups can be displayed on the screen at any time in the form of multi windows, annotated and analyzed, broadcast and shared, which effectively enriches the interaction mode of group teaching and collaborative learning.
bj80 supports the reverse control of windows and Android devices by clicking and double clicking on the large screen. Built in electronic whiteboard to support smooth writing. Turn on the annotation function, the content can be displayed on the large screen, and the annotation can be touched.
7. Information release
bj80 multi screen cooperative intelligent terminal supports wallpaper and subtitle push function, and can customize the rolling playback of pictures and letters in teaching activities. The information release is convenient, fast and accurate. There is no need to use the traditional information release method. It can be pushed in the form of pictures or words, including public announcements, examination information, timetable and so on.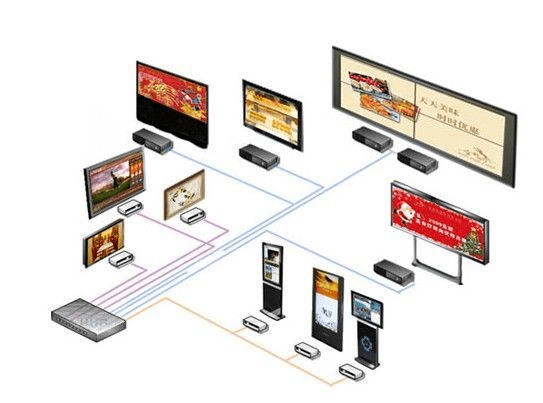 8. Unified management of
bj80 multi screen collaborative intelligent terminal supports remote unified management function. Through the deployment of independent management service platform, it can carry out centralized control and management of front-end equipment, and support operation and maintenance personnel to remotely view equipment information through the network, set equipment configuration individually or in batch, and make real-time statistics of equipment working status, operation and maintenance data, so as to realize efficient and intelligent management of a large number of equipment, Greatly reduce the management difficulty and management cost.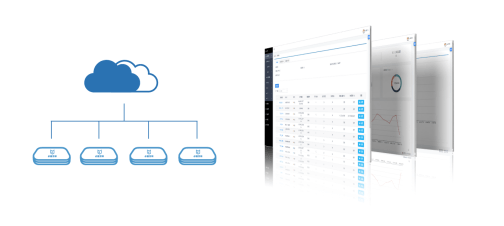 III. general comment
from the overall test experience, bj80 multi screen collaboration intelligent terminal has been separated from the category of screen projection products. It is more like Bijie Internet's exploration of smart office and smart education scene ecology. It fully integrates the concept of "multi screen interaction and multi screen collaboration" into the product design, with bj80 Bijie intelligent collaboration terminal as the core, Effectively integrate the interactive scene system of multimedia conference room or smart classroom, shape a new form of professional and efficient office, and explore new ways to implement networking, digitization, intellectualization and personalization of intelligent office and smart classroom.
bj80 multi screen cooperative intelligent terminal is worth looking forward to!