Enterprise Micro Screen Projector – Bijie Enterprise Micro Edition Wireless Screen Projector User Guide
With the continuous development of technology, wireless screen projection technology has increasingly become a necessary tool for daily work. As a leading brand in the industry, Bijie TikTok has always been committed to providing stable and efficient TikTok experience for business users. Recently, Bijie's new solution for screen projection – the enterprise WeChat screen projection version wireless screen projector – was officially launched, bringing users a more convenient office experience through close integration with the WeChat public platform. Below, we will provide a detailed introduction to the features, usage scenarios, and operation methods of Bijie's new investment screen solution – Enterprise WeChat investment screen, to help you quickly get started.
Features of Enterprise WeChat Investment Screen:
01 Enterprise Micro Application Screen ProjectionSupport the internal screen projection function of enterprise WeChat, without the need to install additional software;

After the binding operation of enterprise and micro administrators is installed, all employees of the enterprise and micro can use it;

WebRTC screen projection technology based on LAN makes screen projection more stable;

Adopting a screen projection code scheme for more convenient use;

Provide rich scalability;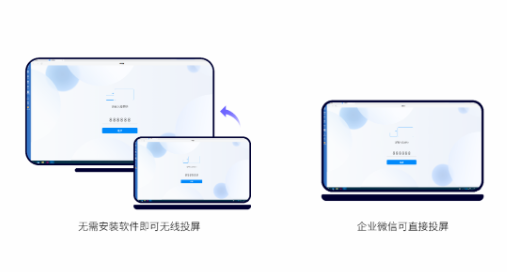 02 Compatible BYOD Wireless Screen ProjectionSupports BYOD function, mobile computers can be used for wireless screen projection, compatible with AirPlay, Miracast, WiDi, Googlecast, HUAWEIcast+, and BJcast screen projection protocols; Customers can choose to directly project the screen without downloading the software, making it easier to use.
03 Comprehensive visitor screen projection plan① Provide a button transmitter with USB/HDMI/Type-C interface, allowing visitors to plug and play with one click screen projection.

② Use standard protocols such as Airplay, Miracast, and GooGlecast to directly project the screen.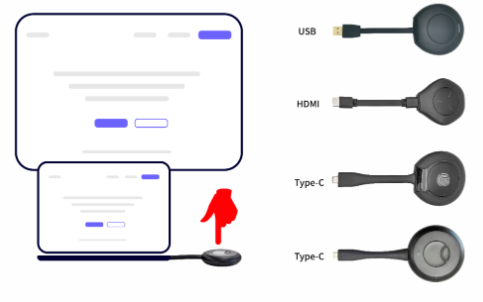 04 compatible BYOM wireless conference (only applicable to Bijie BJ66)① Wireless Conferencing – Device Connection

The camera, microphone, and audio device that supports BYOM function and can be wirelessly connected to USB interface can further achieve wireless conference, break away from wire system, and be more convenient, improving the overall aesthetics of the conference room.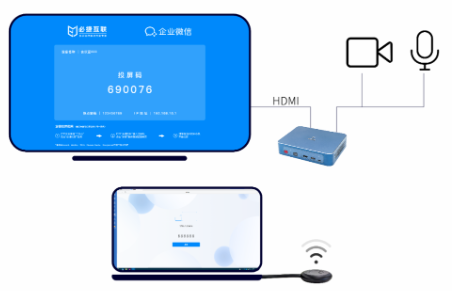 ② Local View Sharing – Anti Mirroring
Through the conference application, the content of the conference room display screen can be shared with remote attendees.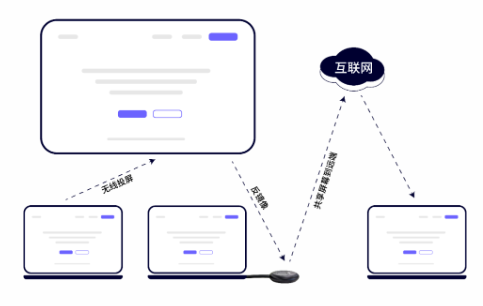 05 supports digital signageWe provide information publishing functionality, not just screen casting. Through the information publishing function, enterprise image posters, video promotional videos, notifications, and other information can be played on the display devices in the conference room. In this way, enterprises can strengthen the promotion of corporate culture and brand promotion.
06 built-in multiple UI theme templatesMultiple sets of UI interface templates with different styles are built-in, allowing customers to customize settings and wallpapers.
07 supports device web configuration managementSupports unified and centralized device management and maintenance, and can remotely control and manage operational and maintenance devices on the network, facilitating unified management and deployment by enterprises.
08 supports a unified centralized management platformThe unified management platform can be privatized and deployed to meet the centralized management needs of enterprises.

① Multidimensional data visualization:

Equipment status monitoring, real-time data processing and display, visualized in the most intuitive and understandable way, for customers to analyze and mine data anytime and anywhere.
② Comprehensive device management:Daily equipment batch management provides multi-dimensional business operation capabilities such as remote monitoring of equipment, equipment fault management, and equipment user usage analysis, helping to achieve efficient operational management.
09 Support for customized developmentProvide one-on-one enterprise micro integration service customization;

Customizable user data management platform for Bijie Enterprise micro projection screen precision;

Customizable enterprise micro conference reservation and Bijie investment screen linkage display;

Customizable enterprise information publishing and display services;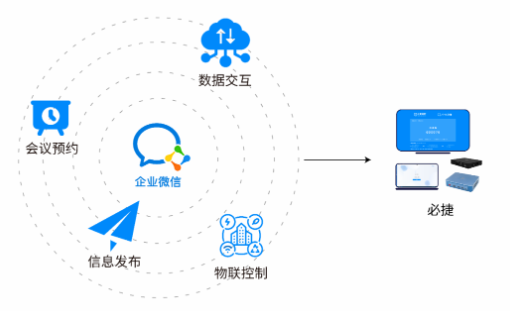 Usage scenario:
1. Conference office: In the conference room, through the enterprise WeChat screen projection function, the content of mobile phones and computer screens can be quickly projected onto the TV screen, facilitating team members to browse and discuss together, and improving conference efficiency.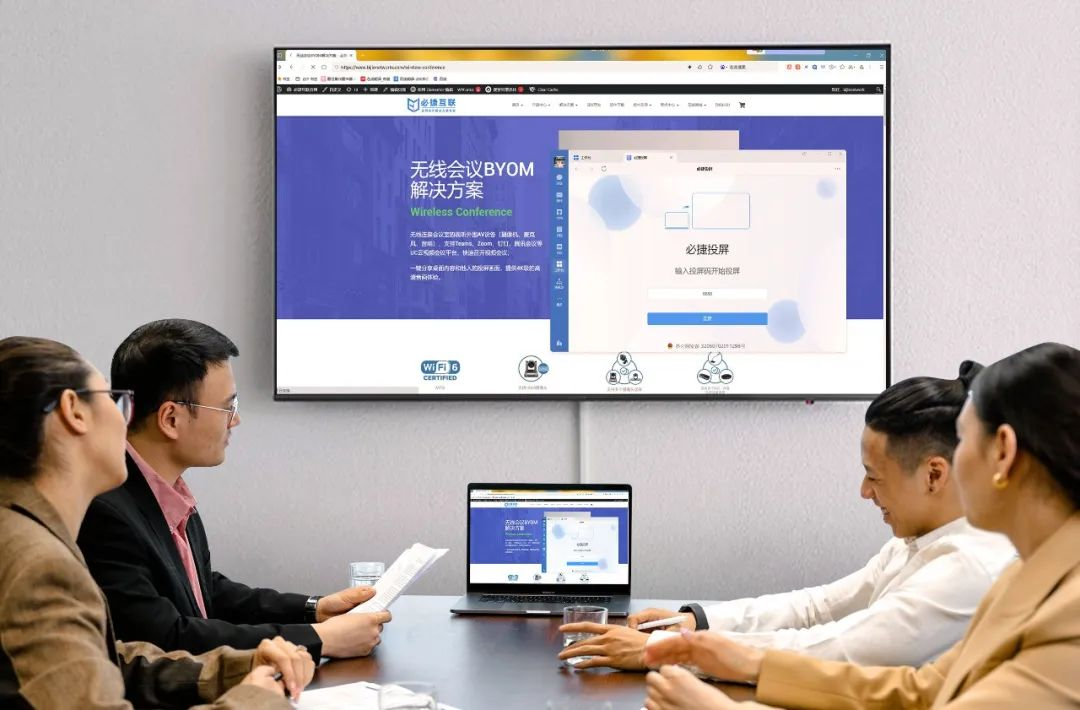 2. Training and education: In the training room or educational scene, using the enterprise WeChat screen projection function, teaching materials and demonstration content can be displayed to students in real-time, enhancing audio-visual effects and improving teaching quality.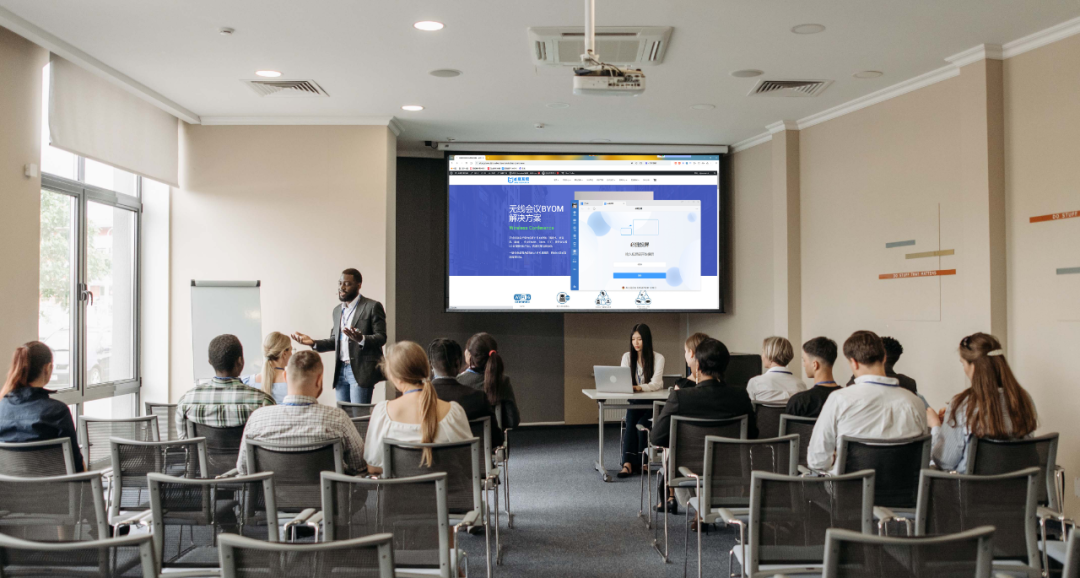 3. Home entertainment: In a home environment, through the enterprise WeChat screen projection function, movies, music, games, and other content from mobile phones and computers can be projected onto the TV screen, enjoying a more immersive entertainment experience.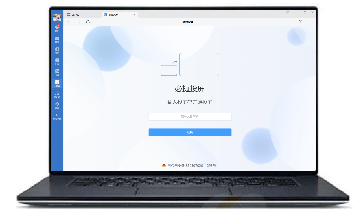 Operation method:
① Connect the Bijie Conference Box (Enterprise Micro Edition) to the enterprise LAN;
② Enterprise and micro administrators install the "Bijie Investment Screen" mini program on the workbench;
③ Enterprise and micro users open the workbench "Bijie Investment Screen";
④ Enter the "screen casting code" in the mini program interface, and the screen casting code query will be displayed on the Bijie conference box display interface;
⑤ In the pop-up browser, select the screen projection content according to the prompts and start the screen projection.
Note: Currently, only Enterprise WeChat PC version screen casting is supported, and other methods are used for mobile screen casting.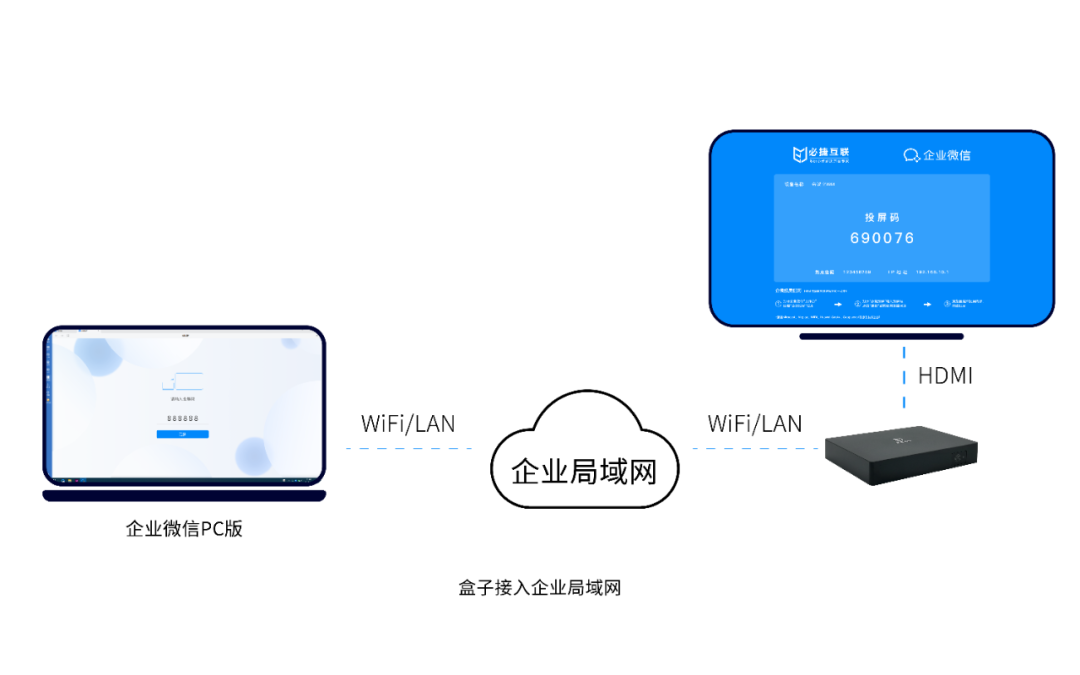 Conclusion:
The launch of Bijie's new solution – Enterprise WeChat investment screen – will bring users a more convenient and efficient office experience. By combining with the WeChat public platform, users can quickly project the screen content of mobile phones, computers, and other devices onto the TV screen without the need for additional application downloads or complex settings. In the future, Bijie TikTok will continue to focus on developing more innovative features and providing more high-quality TikTok solutions for business users. Let's look forward to more exciting together!