Hotel Screen Projection – Bijie Hotel Screen Projection Solution, Adding Fun to Travel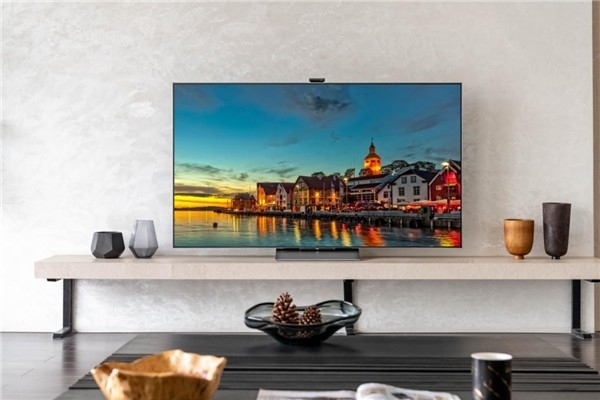 With the development of social economy, people's requirements for travel and accommodation are becoming higher and higher. Guestrooms are the most basic element in hotels, the place where customers stay for the longest time, and leave the deepest impression on customers. Therefore, hotel room design should not only meet the needs of a single place of residence, but also meet people's psychological needs, giving people a sense of warmth, identity, comfort, and taste. Nowadays, most hotels use smart televisions or projectors to facilitate customers' screen projection and provide a better viewing experience.
The Bijie Hotel's guest room wireless projection solution adopts a secure and encrypted wireless projection transmission protocol, specifically designed for the hotel industry to provide wireless projection and screen sharing of mobile phones and computers, allowing guests to avoid cumbersome wiring operations. Video dramas or games on their mobile phones can be projected onto the guest room TV for large screen playback, enhancing the guest experience. One on one screen scan and code binding device to prevent accidental phone calls and ensure guest privacy and security.
One to one scan code connection
Implement scanning authentication and one-on-one device binding. The screen projection data channel adopts a QR code encryption authentication mechanism, and can only be connected to the screen projection after WeChat scanning authentication, to prevent accidental projection.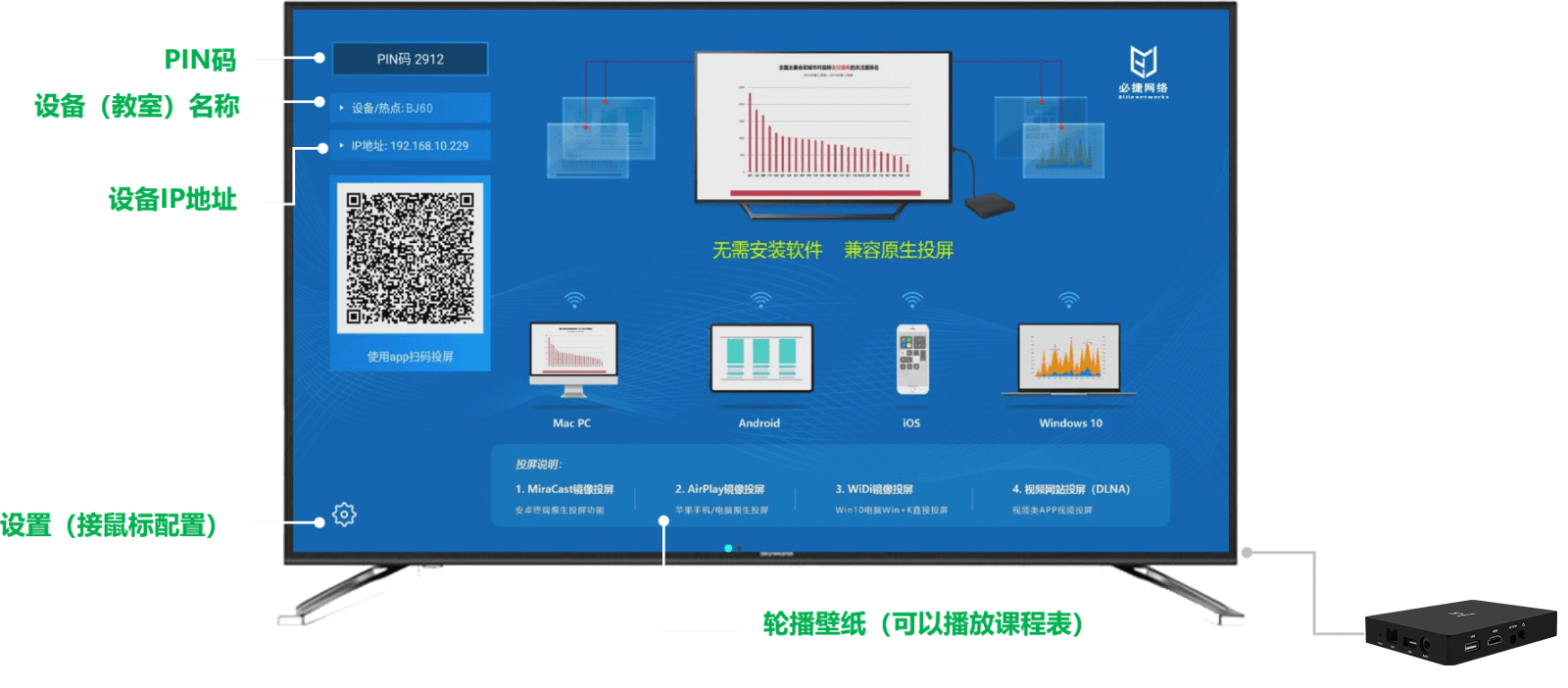 Through Bijie's screen code scanning authentication, one sending end corresponds to the corresponding receiving end, ensuring that there are no errors or random drops between different rooms, effectively avoiding the risk of customers mistakenly dropping local files to the next room. It can better maintain the privacy of guests, and also prevent disputes and disputes caused by incorrect or indiscriminate investment, minimizing technical risks, allowing guests to fully enjoy the fun brought by smart hotels.
No need to install screen projection software
Compatible with projection protocols such as AirPlay and DLNA, supporting film and music projection; Video projection on apps such as iQiyi, Youku, and Tencent Video is simple and easy to use.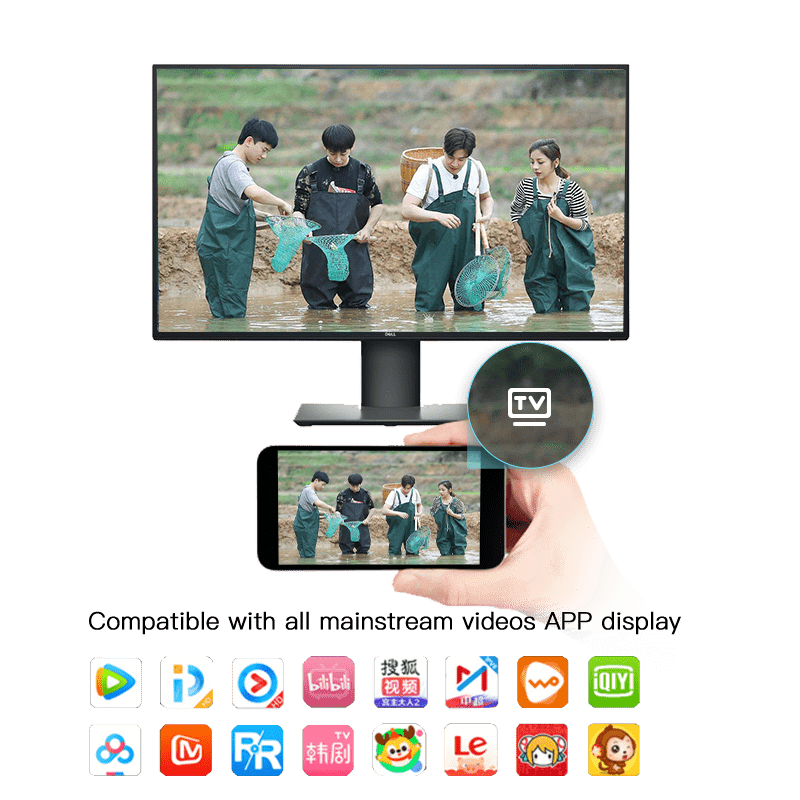 iOS, Android phones, and PC devices can easily project screens and play videos, images, and more on hotel room televisions.
Supports scanning and screen casting, as well as screen casting with code casting
Using the Bijie screen casting client software, it can provide scanning code direct casting and screen casting code fast casting functions.
Requires the use of the Bijie Tou screen mobile app or PC client software; It can support screen projection across network segments and VLANs.
Steps for scanning and screen projection:Step 1: Open the mobile app/PC software;

Step 2: Scan the QR code of the screen;

Step 3: Click to cast the screen.

Screen casting code screen casting steps:

Step 1: Open the mobile app/PC software;

Step 2: Enter the screen projection code displayed on the screen;

Step 3: Click to cast the screen.
Support integration with hotel IPTV system
Specially customized for the hotel IPTV system, it can be integrated and docked with the hotel IPTV system to achieve unified management and control of information system software.
Welcome to Hotel Advertising
The Bijie projection screen supports wallpaper rotation, and after docking with the hotel guest control system, it can play welcome pictures of guests staying, as well as hotel introductions, hotel facility distribution, fire evacuation maps, etc. While promoting the hotel, it makes customers feel at home.
Low cost, achieving "one-on-one screen projection"
To achieve a "one-on-one screen projection" for each guest room and avoid the phenomenon of similar guest rooms mistakenly or randomly dropping, the commonly used network maintenance solution is to prepare a separate AP or router for each guest room, which is very expensive. With the help of Bijie Internet's hotel solution for screen projection, there is no need for a hardware gateway, supports cross three layer networks, does not restrict network or IPTV private network, and creates a smart hotel screen projection life through one app/SDK.
The biggest feature of Bijie Internet's screen projection is that it has not passed scanning authentication, and any mobile phone or video app, even if connected to the same WiFi, cannot search for a TV. Only the guest in this room can scan the QR code of the TV screen to search for screen projection equipment for screen projection. This method ensures effective separation between different rooms and avoids the occurrence of misplacement or littering, effectively avoiding the risk of customers mistakenly placing files in the next room and protecting customer privacy.Bijie Network always adheres to technological innovation and will continue to "customer-centric" to create wireless projection products that are more suitable for customers' needs. It will use advanced wireless projection technology to protect product upgrades, provide more thoughtful services to customers, and provide users with the best wireless projection products.