As the world becomes increasingly digital, communication technology is helping the enterprise bridge gaps between teams and vendors.
Having the right conference room equipment can help boost collaboration between different offices or streamline processes and improve productivity for telecommuters.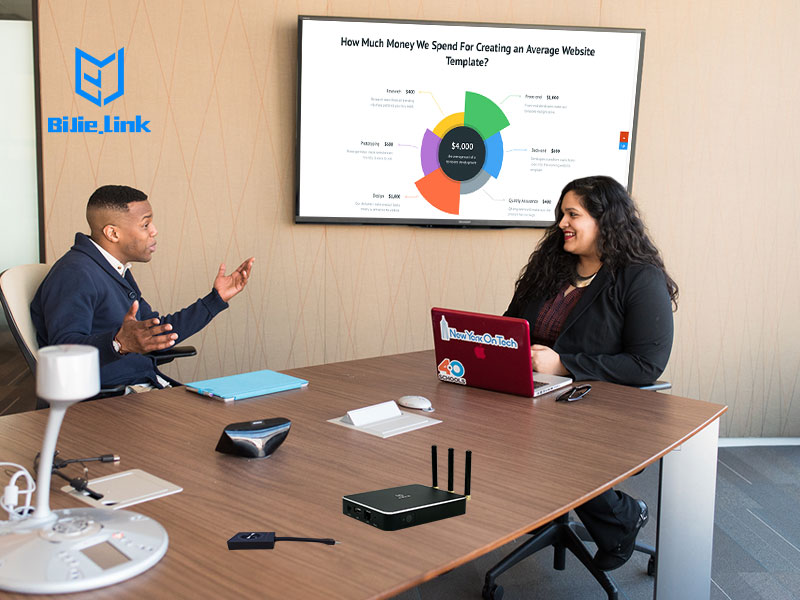 1. Google Jamboard
Every conference room needs something to view content on, and there are several smart options to choose from. First up: Google's Jamboard, which was announced in December 2016.
The Jamboard is a 55-inch digital whiteboard with a stylus and digital eraser for cloud-based collaboration. Along with wi-fi connectivity, an HD camera, and built-in speakers, the Jamboard has best-in-class touch response time, according to Google.
The board works with G Suite, so users can pull up Google Docs or Sheets as part of their meeting and work on them together, in real time.
2. Samsung Flip
Similar to the Jamboard, the Samsung Flip is a digital whiteboard where users can make notes and annotate charts with a smart stylus. The device has an embedded search feature to efficiently locate past projects, as well.
The main difference between the Flip and similar devices, according to TechRepublic's Conner Forrest, is the Flip's ability to connect to other devices. Either through a USB connection or wirelessly, users can see Flip content on their laptop or smartphone and share content from their personal device to the board.
The Samsung Flip also has increased security features to protect meeting data from unauthorised users.
3. Cisco Spark Board
Another in the vein of the digital whiteboard, the Cisco Spark Board allows for collaboration via conferencing and brainstorming in the cloud. Like the Flip, the Spark Board has data encryption, but its wireless connection options help it stand out.
Through a series of connected devices, users are able to walk up to any Spark board in an office and share their work with one click. A user's devices are paired with all boards using the Cisco Spark platform and ultrasound wireless pairing technology, potentially saving time in setting up meetings and impromptu brainstorm sessions.
4. Microsoft Surface Hub
The Microsoft Surface Hub is an all-in-one solution that supports video conferencing and digital whiteboard capabilities.
"Microsoft looks to replace old technologies like the conference phone hub, web cameras, and archaic overhead projectors — all technologies that have over time become the source of mockery and derision for their less than effective application," wrote TechRepublic's Mark Kaelin when the Surface Hub was announced in 2015.
The Hub supports several apps, including Skype for Business and Office apps, so users can pull up content to discuss and work on during a meeting.
5. LG OLED TV
Showcased at CES 2017, the LG OLED TV is ultrathin, measuring only one-tenth of an inch thick. Available in 65-inch and 77-inch models, the TV attaches directly to the wall using magnetic brackets.
Described as a "taste of the future" by TechRepublic's Jason Hiner, it could become a future staple of conference rooms. The accompanying sound bar features HDMI ports and connectivity options for video conferencing.
BJ62S is a wireless projector that mainly used in office. The application of BJ62S effectively avoid tedious wires. In the meeting, you will be trouble to connect all kinds of wires, but with the help of BJ62S, the content of your device, no matter a computer, a mobile phone or other intelligent device can be wireless displayed on your large screen, which creates a better effect of the meeting.