wireless screen projection:
and
can put conference content, multimedia files, game pictures, movies and video pictures on another screen for interaction without various connections, get rid of constraints and enjoy a faster and more free screen projection experience. Wireless technology has been closely related to our work and entertainment, and has provided more convenience for our work and life.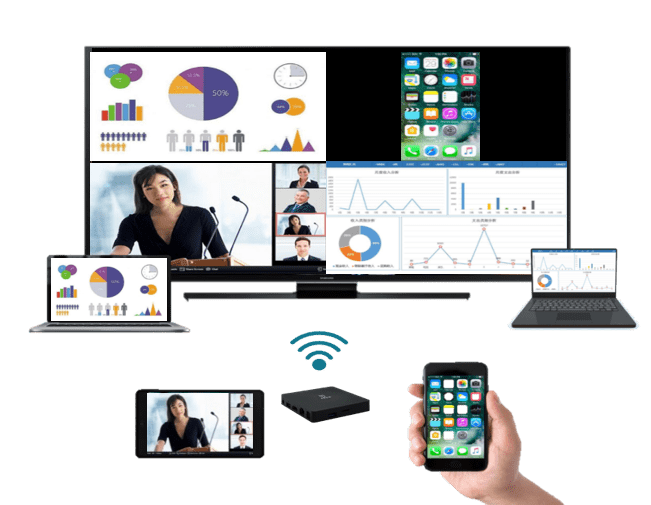 projection Protocol
all wireless projection products are based on the following mainstream wireless projection protocols. They integrate these protocols more or less, and then form their own different projection functions.
and
are currently the mainstream projection protocols: miracast, airplay and DLNA.
airplay protocol is a wireless technology developed by apple, which can wirelessly transmit audio, video and pictures on IOS devices such as iPhone and iPad to airplay supporting devices through WiFi. With the gradual popularization of airplay protocol, airplay is integrated into more and more network set-top boxes and smart TVs in China, and its image effect is the best among all screen projection methods.
miracast protocol is a wireless projection protocol based on WiFi connection developed by Wi Fi alliance. Miracast wireless projection is the most compatible projection protocol. Most Android phones and smart TVs in China support miracast projection protocol.
DLNA protocol is a set of interconnection protocols among PCs, mobile devices and consumer appliances initiated by Sony, Intel and Microsoft. The most common is the projection protocol used for the projection operation realized by the TV button in our video software.
chromecast protocol is a wireless projection technology developed by Google. Compared with airplay, the chromecast experience is very different. Compared with image projection, chromecast experience is closer to DLNA.
widi is a wireless screen projection method that supports windows10 notebook. It can be wireless screen projection without installing software.
wdhi protocol is an HDMI transmission solution, which can realize lossless transmission, but the cost is high. The transmitter needs independent power supply and barrier free transmission.
and
private screen projection protocols are solutions that companies have come up with. They have a wide variety of products, mainly in the form of installing software. Mobile phones need to install app. Android does not support sound, and the screen can be cast through the network.