Screen casting – Can AirPlay screen casting be used on Windows?

AirPlay is a wireless media streaming technology developed by Apple. It allows users to send music, photos, videos, podcasts, and other multimedia content between Apple devices. For example, you can stream videos from MacBook to Apple TV through AirPlay.
However, Apple limits most of its best features to its own products, including AirPlay. This may make PC owners feel uneasy and wonder if they can use AirPlay on Windows.
Can I use Windows' AirPlay?
Firstly, AirPlay provides two main functions: streaming multimedia content and mirroring the screen of one device to another device.
You can use AirPlay for streaming on Windows and need to download iTunes for Windows and AirPlay compatible devices.
It requires you to connect two devices to the same Wi Fi network and use iTunes to stream music from Windows to the receiving device, such as a wireless speaker. However, if you want to obtain more advanced AirPlay features, additional software is required.
Step 1:
Download the software on your PC or laptop, and then start it to start screen mirroring of your phone's full screen. Select the operating system supported by your phone on Android/iOS, and then search for the name of your PC or laptop.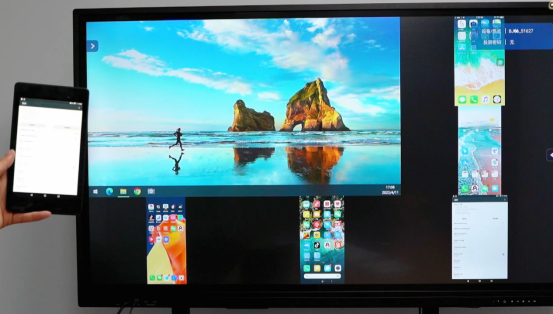 Step 2:
If you are using an iOS device, please activate the screen mirroring function on your device and locate the name of the same device indicated in the phone mirroring. Clicking on it allows for full screen mirroring.
Step 3:
After the phone successfully connects to the software, the screen content can be recorded. Firstly, you can adjust the output settings for better screen recording. Here, you can change sound system options, video format, and even set the number of minutes to stop recording. Then click on the Record button.
Please note: If you are using an Android phone, you need to download FoneLab Mirror to connect your phone to the software.