Bijie wireless projection SDK is a complete set of wireless display and multi screen interactive application development kit, including transmitter SDK and receiver SDK. It is compatible with airplay, miracast, widi, googlecast, DLNA and bjcast (self-developed) projection protocols. It can adapt to IOS, Android, windows, Mac OS and Linux system devices. It provides customizable development interfaces and perfect technical documents and demo, which is convenient for third-party partners to call and integrate.
Bijie projection SDK
transmitter SDK: supports Android, IOS, windows, MAC system intelligent devices and LAN Wireless projection. Users can integrate the transmitter SDK into their own app or software application, and support Bijie projection receiver devices to realize wireless image projection of mobile phones, pads and PCs.
receiver SDK: it supports Android, windows and Linux operating systems, fully adapts to chip platforms such as Hisilicon, AMLOGIC, Ruixin micro, sigmastar, Quanzhi and Intel, and is compatible with wireless projection protocols such as airplay, miracast, widi, googlecast, DLNA and bjcast (self-developed by Bijie), as well as wired projection of USB data line, which is convenient for chip manufacturers, set-top box manufacturers, TV manufacturers and equipment integrators to integrate. Design diagram of
transmitting end SDK and receiving end SDK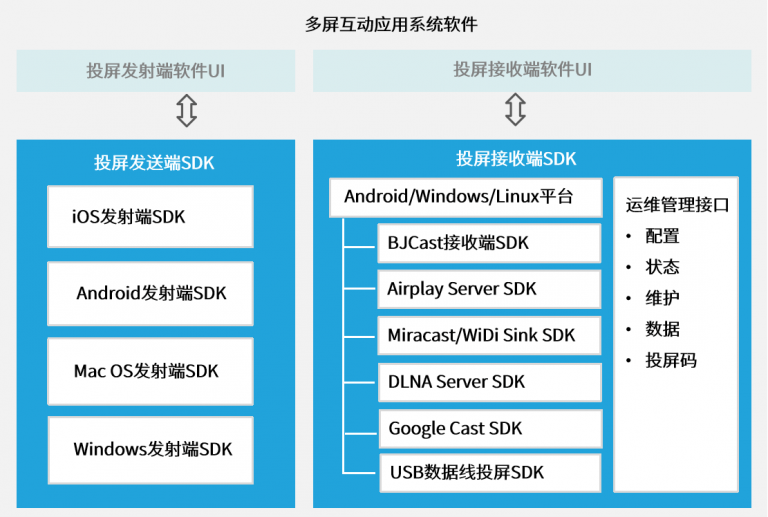 SDK application scenario:
1 The enterprise intelligent office integration
and
integrate the transmitting SDK into the intelligent office equipment to better carry out intelligent office and improve the work efficiency of individual or group office affairs through wireless screen projection and multi screen interaction.
2. Smart education equipment integration
and
integrate the launch SDK into smart education equipment through central control, realize the functions of smart podium and group interaction, use intelligent technology to build an intelligent teaching environment, optimize the presentation of teaching content and promote classroom interaction, improve the quality and efficiency of classroom teaching, and truly realize the deep integration of information technology and education and teaching.
3. Intelligent hardware integration
intelligent projector
integrates the SDK into the intelligent projector, which can directly project the conference content wirelessly, reduce complicated programs and make it more convenient to use.
smart glasses
integrates SDK into smart glasses, which can project games on VR glasses onto TV for more user experience. Or throw the game on the computer or mobile phone onto the VR glasses to make the user feel immersive.
vehicle navigation
integrates the SDK into the vehicle navigation. When navigation is needed, it is directly projected on the vehicle. The vehicle screen is large and the map display is clearer, which is convenient for the driver to view the navigation information during driving. Some vehicle navigation can also be projected onto the instrument screen. The driver's eyes do not need to shift to the central control screen, but just look at the instrument panel, which is safer to drive.
display large screen
integrates the SDK into the large display screen, supports 1080p HD display, wireless projection of mobile phones and computers, non sensory projection, and arbitrary switching of large and small screens; Iqiyi, Youku, Tencent video and other app videos are directly put on the screen, which is simple and easy to use.
smart home
integrates the SDK into the smart home. People can screen the menu to the range hood with small screen, the food preservation temperature to the refrigerator with screen, and the skin care steps to the mirror with screen function, so as to optimize people's lifestyle and living environment, help people effectively arrange time and save all kinds of energy.