Smart Office – Differences between BYOM and BYOD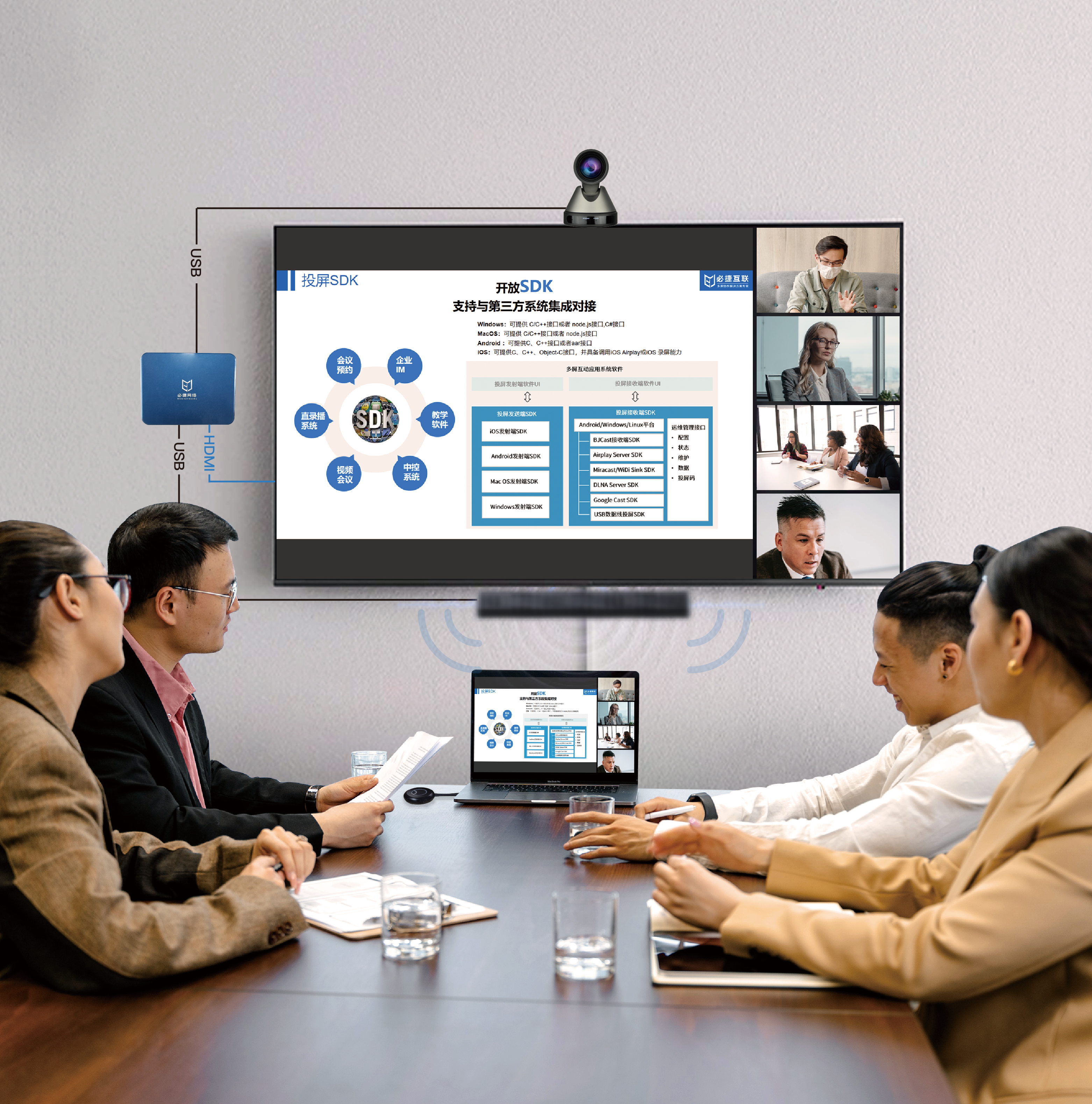 The main difference between BYOM and BYOD lies in their application scenarios and objectives.
BYOM (Bring Your Own Meeting) refers to employees bringing their own devices to meetings, including personal computers, phones, tablets, etc. Its goal is to enable employees to work seamlessly during meetings. BYOM practice allows employees to complete tasks anywhere, whether in the office or at home, and seamlessly collaborate with colleagues on any device. This model is an important component of the hybrid work model, which can better meet employees' needs for free and personalized work and promote the flow of information within the enterprise.
BYOD (Bring Your Own Device) refers to employees carrying their own devices (usually mobile smart terminal devices such as phones or tablets) to work. This model was originally designed to meet the personal needs of employees, such as at airports, hotels, coffee shops, etc. Employees can log in to the company's email and online office system to work without being limited by time, location, equipment, personnel, or network environment. However, it has developed into a new IT equipment model that can better meet employees' needs for free and personalized office work, and promote the flow of information within the enterprise.
Both BYOM and BYOD can be completed using the Bijie wireless screen projector. By using the BJ66 wireless conference terminal and WCB06 wireless conference companion, a camera, microphone, and audio device that can be wirelessly connected to a USB interface can further achieve wireless conference, break away from the wired system, and be more convenient, improving the overall aesthetics of the conference room. It can meet the needs of local conference screen sharing and also provide remote video conference access.

It can be adapted to Tencent Meeting, DingTalk, Zoom, Teams and other software video conferencing platforms, and can directly convene or join video conferences on the conference terminal. When users need to share desktop content, they only need to project the computer or mobile screen to the conference terminal, without the need to open the conference software to add the conference.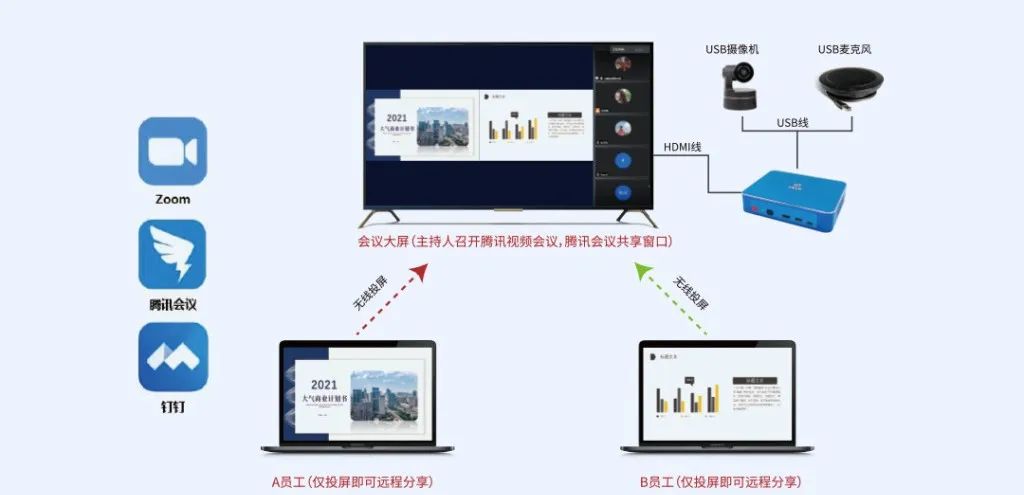 In addition, BYOD function is also supported, and mobile computers can have wireless screen projection, compatible with AirPlay, Miracast, WiDi, Googlecast, HUAWEI Cast+, and BJCast screen projection protocols; Customers can choose to directly display the screen without downloading the software, which is simpler to use and can support up to 6 simultaneous displays.

Supporting video conferencing and local projection content to be displayed on the same screen without interfering with each other. In the process of enterprise office work, video conferencing and local projection can save time and improve work efficiency.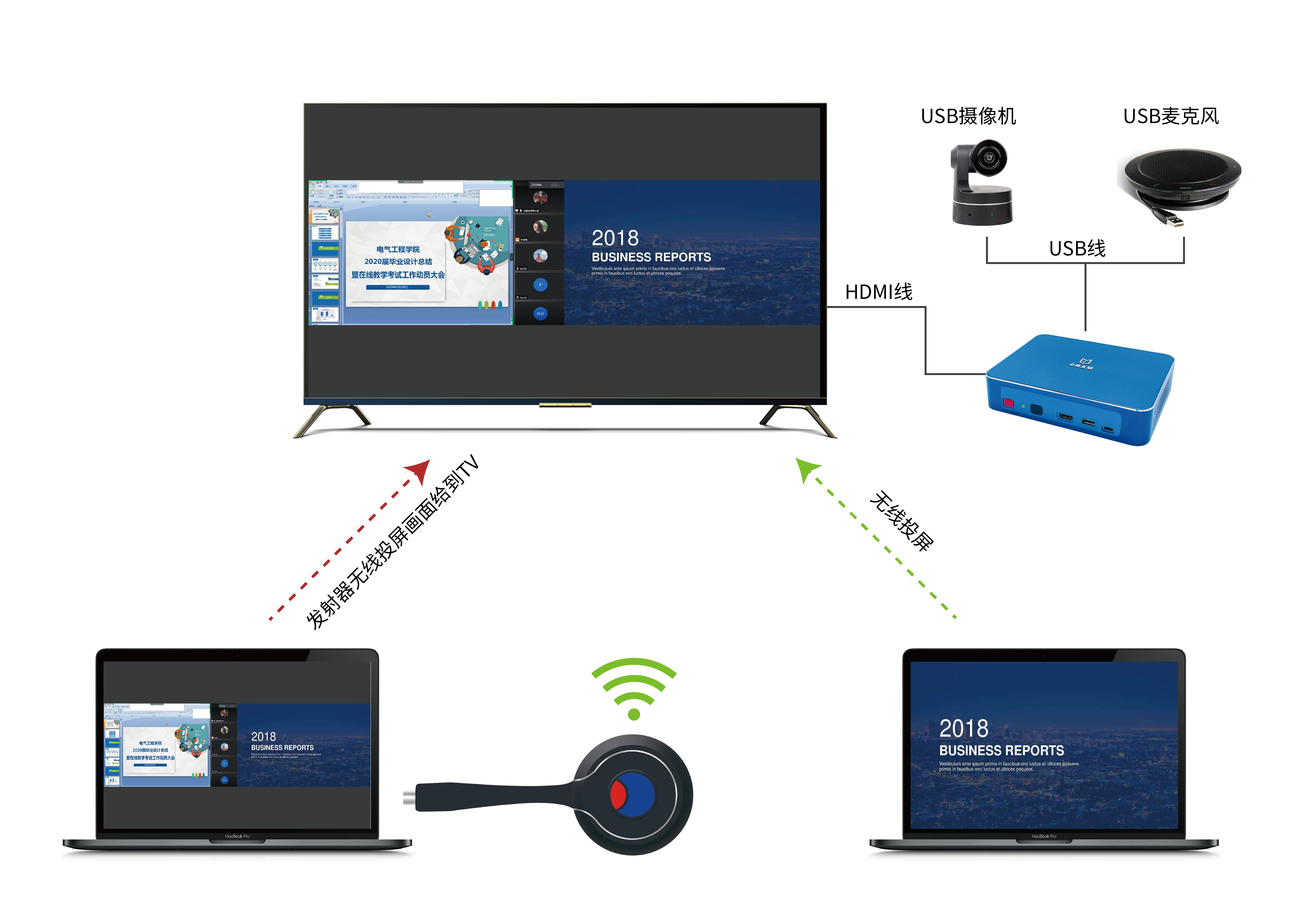 The operation method is simple, and the specific steps are as follows:
The display screen is connected to the BJ66 wireless conference terminal, and the camera and microphone are connected to the BJ66 via USB;

WCB06 wireless conference partner BJ66 pairing;

After successful pairing, insert WCB06 into the computer and wait for WCB06 to start;

Taking Tencent Meeting as an example for demonstration, open Tencent Meeting;

Click the small button to turn on mute, click again to turn off mute, and long press to turn on anti mirror mode;

Click the big button and the computer screen will be projected onto the TV.

Overall, both BYOM and BYOD aim to achieve more flexible and personalized office methods, but BYOM focuses more on meeting scenarios, while BYOD focuses more on daily office scenarios.