Stream Audio and Video with Mac's AirPlay
The Mac has several clever features and one involves the audio minijack. If you connect AirPort Express to your home stereo receiver or powered speakers, you can pump the music from your Mac (or Windows) iTunes library through your stereo system. You can use either a ministereo-to-RCA cable or a minidigital, fiber-optic TOSLINK cable, if your stereo can accommodate that kind of connector.
Either way, iTunes detects the remote connection. From a small pop-up menu, you can choose Computer to listen to music through your Mac, or you can choose Express to listen through Express and whichever speakers or stereo it is hooked up to. Apple used to refer to this wireless symphony as AirTunes when it was an audio-only hookup. The name was changed to AirPlay as the technology became more versatile.
     If you have an iPhone, iPad, or iPod touch, download Apple's free Remote application from the App Store. It controls AirTunes (along with Apple TV and iTunes).
---
Apple has built an online ecosystem around AirPlay. These days, you can wirelessly stream music — and, for that matter other content — to third-party AirPlay-compatible speakers, A/V receiver systems, and stereos.
If you have a Mac running Mountain Lion or Mavericks and an Apple TV set-top box, you can display whatever's showing on your Mac screen on a television connected to the Apple TV. It's all done through technology called AirPlay Mirroring. You can even stream up to the 1080p high-definition video standard.
    To take advantage of AirPlay Mirroring, the Mac and Apple TV (second generation or later) must be on the same wired (Ethernet) or wireless network. And you'll need a MacBook Pro dating from early 2011 or later, or another Mac model from mid-2011 or later.
---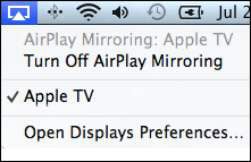 To turn AirPlay Mirroring on, choose Apple TV from the AirPlay Mirroring menu to stream stuff from your Mac to the TV. You'll know that it's working when the icon turns blue and when, ideally, the TV shows the Mac screen. You can also scale the desktop resolution to best suit the Apple TV or your Mac screen.
If you're playing a movie or TV show through iTunes when you exploit AirPlay Mirroring, you enjoy a full-screen AirPlay Mirroring experience on the television.