Stream from an iPhone to a sumsung tv
    From playlists and podcasts on your iPad to pictures and videos on your iPhone, you can now enjoy it all on your Samsung TV. With AirPlay 2 available on select 2018, 2019, and 2020 Samsung TV models, you'll be able to stream shows, movies, and music, and cast images from all your Apple devices directly to your TV.
You can't stop listening to that song on your phone, but how much better would it sound through your TV's speakers? Well, you can play all your favorite songs on the TV through AirPlay.(how to use airplay)
1.Connect your TV to the internet and make sure your iPhone is on the same network.
2.On your iPhone, open your music player and select a song.
3.Tap the AirPlay icon at the bottom of the screen
4.Select your TV and the the audio will start playing through the TV!
Note: If a code displays, you will need to enter it to make the music start playing on the TV.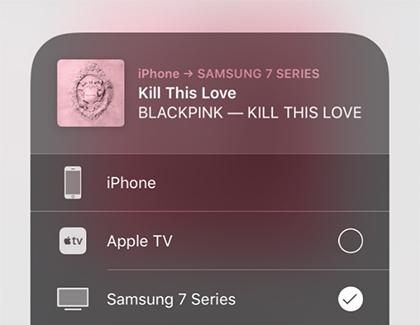 Alternatively, If you were already playing audio, just swipe down from the upper right to open the control center and tap the AirPlay icon on the audio player.
To stop playing audio on your TV simply tap the AirPlay icon on your iPhone and then deselect your TV.