Wireless presentation, or wireless presentation systems refers to hardware products that provide wireless screen sharing or wireless display in meeting spaces. Wireless display technology allows users to easily mirror their device screen to the in-room display. Often, the terms wireless display and wireless presentation are used interchangeably.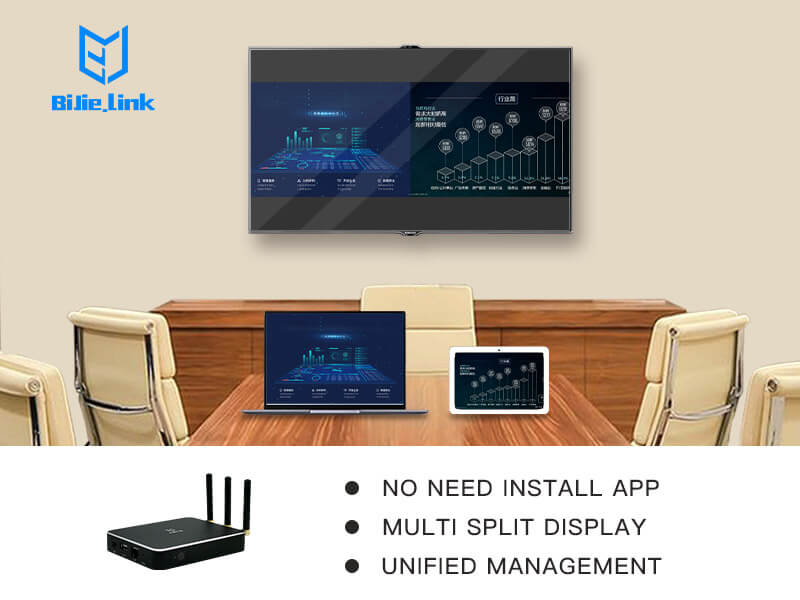 Choosing wireless display and wireless presentation for your business enhances collaborative spaces and makes meetings more efficient.
At minimum, the best wireless presentation solutions deliver the following requirements:
Supports a mix of employee and guest device operating systems
Makes it easy to use with virtually no training required
Allows administrators to mix and match configuration options for secure employee and guest device connections
Provides collaborative features that make it easy for teams to be productive
Ensures security at every level of an active connection
Provides multi-user and role-based central management of devices to support large deployments with multiple sites and administrators

Most wireless presentation solutions in the market require extra hardware to connect, which wastes valuable meeting time trying to locate the right connector. Or, the connection hardware gets lost. BJ80 is a wireless presentation system that eliminates apps, cables and adapters making it quick and easy to share and collaborate over content.
Wireless Presentation for Your Business
BJ80 wireless presentation system that supports app-free wireless screen sharing from any device onto in-room displays.
App-free and dongle-free content sharing

 

practically eliminates user training and makes it easy for even guest devices to connect instantly. ScreenBeam receivers support the built-in wireless display standards already available in Windows, Apple and Chromebook devices.
Designed with three separate network interfaces

 

so administrators can configure employee devices to a Company network and guest devices to a Guest network with Internet access. There's never a path between Guest and Employee networks to keep company data safe.
Presenters can switch out instantly

 

without disconnecting or locating the right cable or adapter to connect.
Up to four presenters

 

can share content simultaneously for a more elegant experience as content annotating and editing of materials can be done in real-time.
Meeting participants can ink and annotate

 

in any Office 365 application on the room display. ScreenBeam Ghost Inking™ technology effectively removes all Windows Inking latency for a more intuitive and natural pen-to-paper experience.
Three levels of security for active connections include

 

connection level security support, session level security with AES128 encryption, and customizable PIN pairing options so that authorized IT/AV departments can control the receivers.