wireless projection, wireless conference wireless projection instead of wired projection is the general trend.
and
although the domestic wireless projection technology started late compared with developed countries, it did not appear in recent years, mainly due to network restrictions. In the previous 2G and 3G networks, projection HD video and PPT slides have been marginalized due to high delay and jamming.
and
in recent years, the emergence of 4G and 5g communication technologies, together with the wireless screen projection technology that has been limited by the network before, has also obtained the opportunity to make rapid progress. Through wireless transmission technology and wireless network as the carrier, wireless screen projection equipment can realize multiple people switching screen projection, support real-time HD video playback, PPT demonstration and other functions. Wireless screen projection began to take charge of multi screen interaction in the "field of business and education". Advantages of
,
,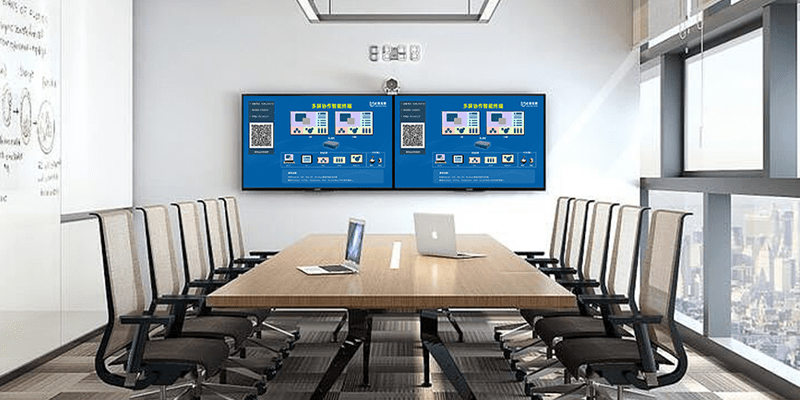 ,
and
wireless screen projection – get rid of the application of "wire system",
and
wireless screen projection technology, get rid of the shackles of messy cables, ensure the beauty of the conference room and make the conference room tall; It also meets the desire of every participant to demonstrate freely. All kinds of cables and connectors in the traditional meeting room have been making the preparation time of the meeting too long. After the wireless screen projection, in addition to some essential cables, the overall beauty has risen to a new level. Advantages of
and
wireless projection – freely demonstrate the development and progress of
and
wireless projection technology, especially the emergence of screen back control technology, which makes us completely bid farewell to the traditional conference form of "taking turns to occupy seats" and "working hard". In the conference room with wireless projection screen, presenters can demonstrate freely on computers, mobile phones, tablets and even display screens. Advantages of
and
wireless screen projection – real-time sharing
and
wireless casting,casting,bijienetworks,bjcast
wireless screen projection equipment adopts the form of wireless WiFi to replace the traditional cable, so it engineers usually build it in and bridge it into the company's LAN, so as to connect it with computers, notebooks and other office equipment in the same local area network, which can easily control the screen projection in the conference room and easily realize one-to-one and many to one, And one to many screen projection scheme. Advantages of
and
wireless projection – saving conference costs what are the costs of
and
conferences? Yes, it's time. And it's time for every participant. If ten people attend the meeting and delay one hour, it is a waste of ten hours for the enterprise.
and
wireless projection can not only save the preparation time before the meeting, but also save a lot of time in the meeting. For example, in round table meetings, lectures, classes and other occasions, the data of different speakers are stored in different notebooks. When using wired projection, the connection is limited, and the notebooks are changed frequently… These problems do not exist when using wireless projection screen. After the last demonstration, the next demonstration, the screen flashes, which is as simple as switching programs on TV.
and  wireless casting,casting,bijienetworks,bjcast
whether in conference rooms, training rooms or school teachers, the shadow of wireless projection technology has been very common. Wireless technology replaces traditional cables. From the perspective of philosophy, it is the inevitable result of new things replacing old things.
and
Suzhou Bijie network always takes R & D as the core, adheres to independent innovation, and has a number of audio and video core technology patents to help our customers realize the interconnection and intelligent collaboration of intelligent display devices, and improve work efficiency and product competitiveness. Committed to smart office, smart education and smart IOT scenarios, it has the functions of mobile screen projection, computer screen projection, wireless screen projection, multi screen interaction, wireless conference, smart screen projection, vehicle screen projection, advertising screen projection and other functions, as well as full protocols such as airplay, miracast, googlecast, DLNA, Huawei cast +.