Wireless screen projection – Bijie wireless screen projector hardware configuration
I believe everyone has this kind of trouble. Every time we have a meeting, we always need to bring it to the conference room because the projection software needs time to connect to the all-in-one machine, and we also need to watch advertisements in advance! It's really inconvenient to display information or something every time, especially in multi departmental meetings where everyone watches advertisements together, which is both a waste of time and truly embarrassing.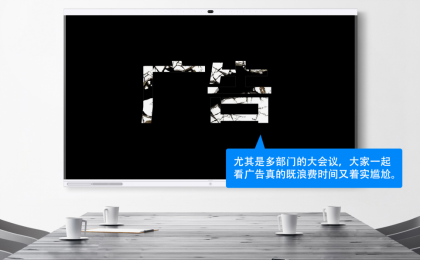 So today, I would like to recommend a wireless conference intelligent terminal that can not only easily solve your troubles, but also help enterprises improve their office efficiency more conveniently and quickly. As one of the wireless conference box products, the BJ66 standard version is highly favored by many enterprises and vocational colleges due to its high cost-effectiveness. Below, I will take you through practical experience to understand the specific functions of BJ66 Standard Edition and see if it meets everyone's needs.
Before we start, let's talk about a topic that has been widely discussed, which is how wireless projection boxes are better than traditional office projectors or other projection devices? Many people will say that it's not all about projection, just buy a projector and then a curtain. In fact, in the actual operation process, it will be discovered that the two are vastly different. Traditional equipment needs to be wired and configured in advance, and if there is a need to switch devices or signal interruption midway, it will be a long wait; And the clarity is not really excellent, let alone 4K, reaching 1080P is very good; When not in a meeting, it won't be taken out, which not only takes up a lot of space, but also concerns about whether it will be affected by moisture and water, making management very cumbersome. Compared to wireless screen projection boxes, they are much more convenient. A box is not as big as a book and can be fixed to a certain position or flexibly placed; And like BJ66, the resolution has already reached 4K, providing a better visual experience. Of course, for different audience groups, everyone has different needs. If you like to use projectors or other devices, you can purchase according to your needs.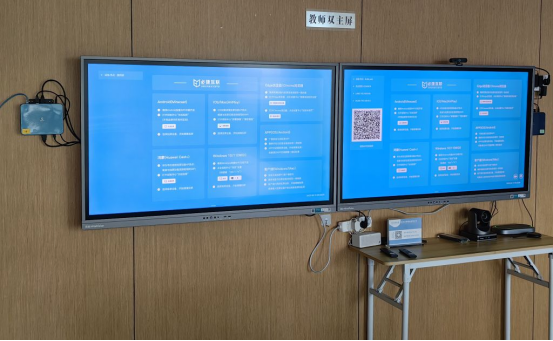 I won't introduce the packaging and unpacking process, let's take a look at the exterior design of the BJ66 standard version. The machine is in a dark blue color scheme, and the entire machine is made of an all aluminum alloy shell, which is processed through CNC edge cutting technology, making it look very upscale. There is also a 5 * 3mm dedicated anti-theft lock hole, with the logo of Bijie Company on top, which is very simple and elegant in design.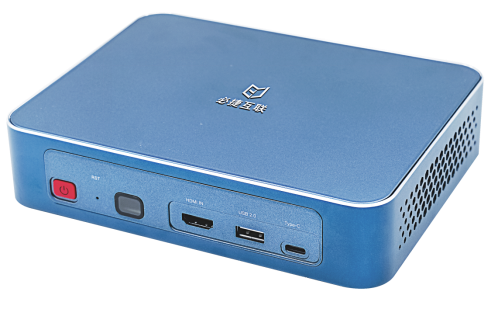 The size of the BJ66 standard version is 180*138* 40mm, which is relatively small and one circle smaller than a regular book. It can be easily placed on the desktop for use or conveniently carried in a bag, achieving free switching between multiple scenes.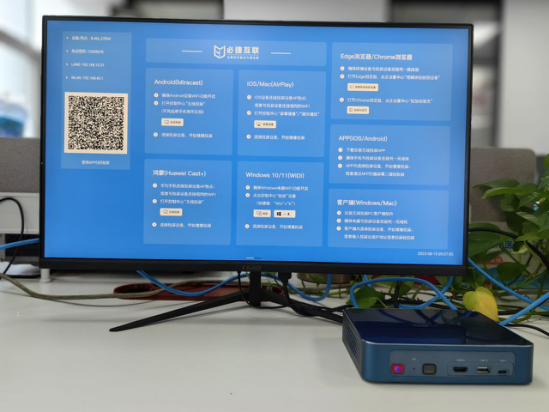 The sides of the body are designed with hollow metal mesh to help dissipate heat.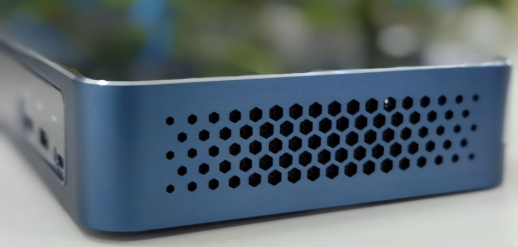 硬件规格: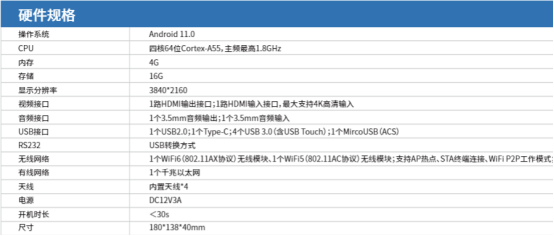 One USB2.0 interface, along with three USB3.0 interfaces and HDMI IN interfaces, allows the BJ66 standard version to simultaneously connect devices such as a mouse, keyboard, USB flash drive, and camera head. It can solidify conference equipment and eliminate the need to waste time adjusting equipment before meetings, which to some extent improves office efficiency. There is also a Type-C interface that can be wired to a mobile phone for screen projection. Multiple devices can display on the same screen, such as one device for video projection and one for PPT display. It can support up to 6 channels of same screen display without the need to switch back and forth between window interfaces, making it more convenient and efficient.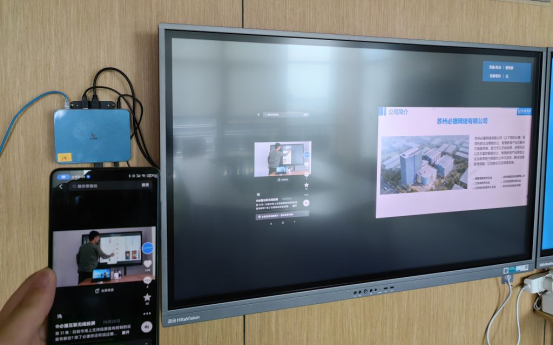 The back of the BJ66 standard version is designed with a 3.5mm audio input/output interface, which can be used to connect microphone devices and speakers simultaneously. During meetings, audio can be directly received or conveyed, which is also quite practical. Repeated on/off testing can ensure that the startup time is within 30 seconds, which is very convenient and fast, saving time.