How to Use Your Big-Screen TV for Online Learning
Sometimes your laptop screen just isn't big enough. Here's how to set up your TV as a second display for your PC so you can use it for everything from streaming movies to online classes.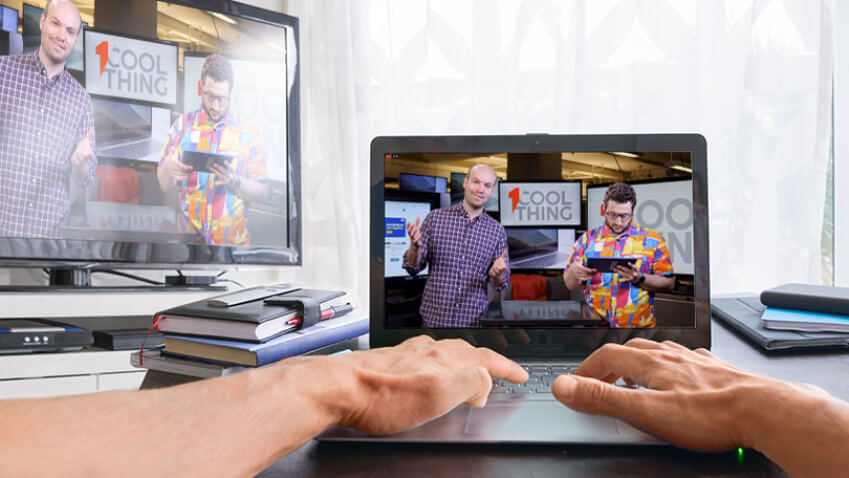 ---
The computer is where many of us spend a good deal of our day working. It's also where students will likely be spending a lot of time taking classes for the foreseeable future. And it just so happens to be the ultimate media and gaming device, capable of playing more music, video, and games than any other platform. There's just one catch: Most monitors (and all laptop displays) are smaller than the average TV. So why not connect your laptop to your TV for a far more compelling work and learning experience on a bigger screen?
You can, and there are several different ways to do it. Not every method is suitable for every situation, though. Depending on where your TV is, where your computer is, how your home is set up, and what media you plan to use your TV screen for, you need to consider exactly how to connect your laptop to your TV.
These techniques don't just work for laptops. If you have a desktop PC, you can connect it to your TV the same way. Of course, desktops are less portable, so if it's located far from your TV, it might not be as convenient or work quite as well.

Wireless Windows Standard: Miracast
Intel's WiDi wireless display technology has been discontinued, but Miracast carries on the torch, and it's natively supported in both Windows 10 and Windows 8.1. Just click on the notification button in the system tray, expand the buttons on the menu that pops up, and click Connect. You'll be able to mirror your screen directly to any Miracast-compatible device on your network. That includes many smart TVs and media streamers. You can also get a dedicated Miracast receiver and plug it into your TV (Microsoft makes an official receiver for $50 called the Microsoft Wireless Display Adapter, which will almost certainly work with your modern Windows PC). With your PC connected, the screen will show up on your TV through its Miracast-compatible screen streaming mode, or Miracast receiver.